Spotted! A pop-up where music meets fashion
OneMethod created a custom line of clothing for MTV Canada and took visitors on a musical journey.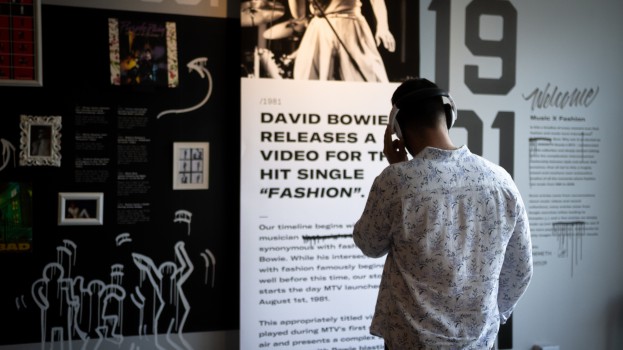 Max Sawka sees Toronto's Queen and John street intersection as a space "where music and fashion literally intersect" – if not for Toronto then possibly for Canada as a whole.
The busy downtown neighbourhood is home to the iconic MuchMusic building, Bell Media's iHeartRadio (the former headquarters for CHUM FM) and a long stretch of retailers from thrift shops to high fashion. So Sawka, ACD at OneMethod, saw it as fitting that the neighbourhood play host to a collaboration between the agency's clothing line OneMeth and music network MTV.
The pop-up, located next to the MuchMusic building (only partially a coincidence, according to Sawka), is selling a limited run of clothing created by OneMeth and which feature MTV's logos and messaging. The goal, said Sawka, is to raise MTV Canada's profile as both a channel and a tastemaker in music and style.
"MTV Canada has a very different presence," Sawka told MiC. "They're not necessarily producing original content, but they do represent the brand. They wanted an opportunity to promote themselves overall, and we just happened to have a spring-summer collection."
The collection combines loose fits and urban styles with bold primary colours and fine line work on the MTV logo. The shop also serves as a tribute to fashion history in a music context, paying homage to popular musicians like Michael Jackson (and his iconic red jacket) and Lady Gaga (who famously donned a dress made of meat in 2010).
The agency also partnered with MTV to create a custom branded playlist and an online "audio guide" on SoundCloud, which narrates some of the most iconic fashion moments in music.
The pop-up will extend until June 17 and Sawka said it's being promoted through "very light" paid social advertising, targeting people within the neighbourhood. All media buys were done internally through OneMethod.