FrontRunner brightens up Canadian DOOH market
The Saskatchewan-based advertising service has rolled out interactive campaigns for the likes of BMW and RBC using programmatic DOOH technology.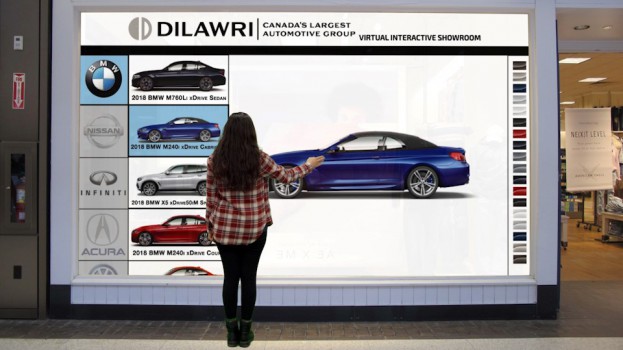 Interactive media platform FrontRunner Technologies is on a mission to rethink storefronts across Canada.
Launched in 2015, the Saskatchewan-based advertising service aims to transform ordinary retail spots into dynamic ad spaces.
According to founder and CEO Nathan Elliot, FrontRunner aims to address the "plague of empty retail space across the world," as well as a decline of retail he's witnessed across major markets around the world.
The solution, he said, was to develop FrontRunner, which uses what Elliot dubbed the FireFly Illumination System to provide real-time, programmatic content.
Precision targeting is done using an algorithm based on impressions, vehicle traffic and walk traffic. It even takes into account which side of the window is in view and the quality of the building the window is in.
According to Elliot, that information is then used to create a five-star rating system that tells clients what the "content delivery potential" is for that space, as well as the price point for an ad in that specific window front.
So far, the company has executed national campaigns for the likes of BMW, Scotiabank, BMO and RBC, as well as Vancouver Nissan and Canadian automotive group, Dilawri.
Other features included under the FrontRunner brand include its Real Estate app for real estate groups, landlords, brokerages to upload their properties into the "FrontRunner Matrix" to create and maintain profiles for their empty spaces, and Creator app, which Elliot said can be used by media-buy companies, marketing companies, advertising agencies and film companies to select window-front options from the Matrix and upload content directly into "hyper-targeted locations" that they want to get access to.
For Elliot, this is all about "recognizing that [a] window front is first point of interaction for many," and one that should be optimized.
Also added to the growing company's roster is its recently trademarked Window Shopping offering, which can to turn any window front into interactive service, "like a big iPad," according to Elliot.
In February, the company developed a project partnership with Campsite, another programmatic DOOH platform.
The company's first national campaign will be launched in Chicago next month.