Why GoodLife chose to return to TV
Marketing director Sharon Litwin says after three years of targeting millennials, it was time for a new approach.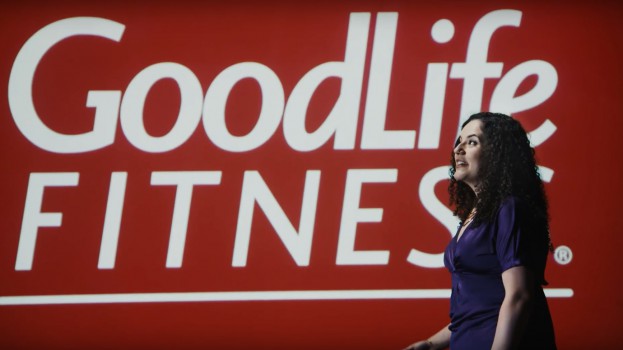 It's been three years since GoodLife Fitness has made an ad buy on TV.
Now, Sharon Litwin, marketing director for the Canadian fitness chain, says its new TV campaign will hopefully be refreshed and renewed for years to come.
The "#ChangeYourStory" campaign is centered around four different 30-second spots featuring members speaking to their former selves. Litwin said that its previous annual campaigns – 2015′s "Make it Happen," 2016′s "Best Yourself" and 2017′s "Live For It" – were more of a hard-edge, aspirational, millennial-targeted effort. "We were trying to pivot the brand more at the time," she said, adding that digital worked for both a younger cohort and more action-packed messaging. The previous ads also featured external talent, whereas these feature actual members.
Because these ads are more story-driven, she said, TV was the better vehicle. Litwin said the team researched extensively and found that "story-driven" ads worked best on television. "I think TV allows you to feel something more than any other medium," she said.
The immediate goal of the spots is to drive viewers to a microsite, which prompts them to read more about members' fitness journeys and share their own goals and aspirations.
The buy is primarily on specialty networks, including W, TSN, History and HGTV. Litwin said the target skews slightly female, with 25 to 54 as the primary target and 18 to 34 as the secondary. Centering on specialty, she said, will ensure broad reach demographically and geographically. "We feel like national coverage is appropriate because we want all of our clubs to benefit," she said.
The first phase of the campaign went live Sept. 4, and will end Nov. 26. Phase two will begin Dec. 26 and stretch into April. However, Litwin said the chain hopes to "carry it out for a couple more years, refreshing the creative."
Although the campaign is centered around television, there is also a complementary social and digital buy, as well as radio. UM handled digital buying for the campaign, while GoodLife's internal media buyer Kelly Mudry handled traditional buying. Creative was spearheaded by Doug&Partners.