CTV steps out with a new message for fall campaign season
The brand aims to reach the next generation of CTV viewers through a more modern look and social and digital-heavy campaign.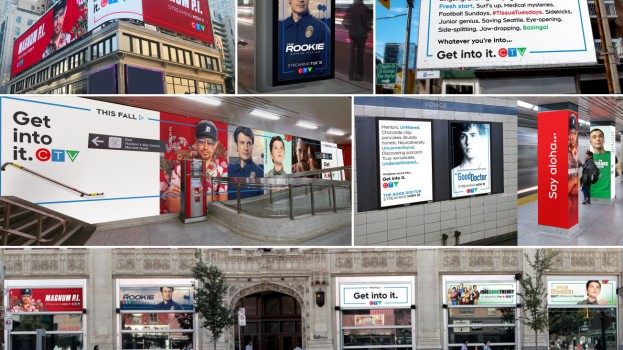 CTV kicked off its fall premiere season with a new slate of programming and a fresh look aimed at modernizing the brand.
The cross-platform "Get Into It" campaign launched this week on digital, social, radio, television and OOH with a strong focus on ratings hits The Big Bang Theory, Young Sheldon and This Is Us, as well as new programs The Rookie and Magnum P.I. 
Leaning into social and digital platforms, the brand's national campaign, which runs for six weeks, includes targeted pre-roll ads and digital banners on Google platforms, as well as Facebook, Instagram and Twitter promotions. It's all part of a media plan that aims to expand Bell Media's target demographic of 25 to 54-year-olds by reaching beyond its national assets of TV, Radio, digital and OOH.
"Get Into It" will also be featured on more than 80 of Bell Media's English-language radio stations, on the Cineplex Showtime theatre platform alongside movie trailers and at more than 700 Tim Hortons locations across Canada.
While the campaign, led by Bell Media's internal agency, will have a major appearance in Toronto, with 800 transit shelter ads and a 180-face TTC domination at Yonge and Bloor subway station, it will also have a presence in Western Canada with LRT train wraps and murals in Calgary and digital ads in Vancouver. All media buying was done in house.
For the first time since 2011, the logo has also been refreshed slightly. The same distinct CTV red circle, blue square and green triangle remain, however, the colours are slightly brighter with less reflective shine, creating what the company calls a more angular, modern, and youthful tone.
According to Bell Media SVP Jon Arklay, the goal was to create a modern campaign (featuring the refreshed logo) that can be seamlessly used across platforms, as well as strike a conversational tone with the tagline, "Get Into It."
"We recognize the need to transition the CTV brand from a traditional TV broadcaster to a modern media company, so with that in mind the refreshed brand that launched with this campaign has a more modern and friendly look and feel, and we also shifted the brand voice fairly significantly," Arklay told MiC. "We're encouraging that connection by saying, 'Hey, whatever you're into, get into it on CTV.' It's essentially an invitation to get personally connected to and emotionally invested in the stories that we share."
While CTV's target demographic is in the 25 to 54 group, Arklay said the company also acknowledges the need to ensure content speaks to the next generation of viewers.
"I don't want to say that we're specifically targeting a younger demo, but we wanted to create a campaign and a brand that really resonated across multiple demographics," he said.