Fall TV check-in: Global
Corus' Maria Hale talks what's driving success on conventional, and what kinks it's still working out.
The lead-up to fall TV is a months-long affair that culminates over only a few short weeks. At MiC, we've attended the Upfronts, we've seen the buyers' predictions and we've outlined the marketing plans. Now, as more series hit the airwaves and the numbers roll in, the true test of who's winning the autumn airwaves begins.
Corus Entertainment's conventional network Global rolled out six new shows and a slew of popular returning procedurals. So far, the network says, it's a win.
"This was a huge premiere week for us," Maria Hale, SVP of global entertainment and content acquisition at Corus told MiC. She admitted last fall was an "anomaly" in terms of ratings (action-packed series SEAL Team and The Brave saw middling ratings, with the latter eventually being cancelled, and Law and Order's true crime spinoff failed to make the grade as well). Now, she says the network feels back on track with its performance two years ago, which saw the network ride high on popular new series Bull and strong numbers for franchise favourites like NCIS and Chicago.
Ratings are up 15% for 2+, 5% for the often-elusive 18 to 34 demographic, 24% for 18 to 49 and 25% for 25 to 54, which Hale said Global sells against and is therefore the most crucial to its strategy. In last week's Numeris rankings, Global took 11 of the top-20 programs for total viewers and adults 25 to 54.
Here's a look at what drove success for the network during premiere week – and what kinks it's still working out.
MiC will follow up with each of Canada's major networks as more new shows premiere.
New shows
At its Upfronts, Global showcased a balanced slate of procedural action/dramas and lighthearted comedies.
The former have driven most of the network's numbers so far. New dramas FBI (pictured below) and New Amsterdam (pictured above) pulled in 2.27 million and 2.24 million viewers respectively. Both shows air Tuesday nights, which gives Hale a strong feeling about the night overall for Global.
Despite feeling confident back in June, Hale said she's still surprised at just how successful the two new shows have been right off the bat, beating out long-running ratings powerhouses like NCIS, Bull and Grey's Anatomy.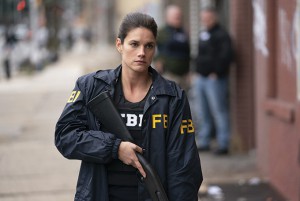 While the two shows are very action-packed, she said a major factor in this year's slate over last year is the amount of "heart" on the schedule, especially with hospital drama New Amsterdam. "Last year, we had a lot of heroes on our schedule – lots of heroes with guns, lots of big action," she said, referencing the onslaught of shows like SEAL Team and The Brave. "This year, we wanted to show more of a human hero, heroes with heart." She said New Amsterdam is also highly story-driven, and the promise of a developing story will hopefully keep its ratings strong.
She said as Corus watches Numeris ratings daily, it's making marketing decisions on the fly, pushing as much as they can into top performers. "We spent all our money buying these big shows, but preserving as much money as we can for marketing those shows is a tricky balance," she said. "As we're watching the Numeris returns, we're tuning the on-air marketing strategy, which is what we have the most control over. It's very much a live experience for the marketing team."
Its lineup has led to strong audiences on Tuesday, Wednesday, Friday and Sunday (despite the loss of longtime Sunday-night favourite The Simpsons). 
Monday night features new comedies The Neighborhood and Happy Together, which premiered Oct. 1. Seven-day ratings from Numeris have not yet been issued for the comedies.
Thursday night plays host to another comedy I Feel Bad, which aired two special preview episodes in September (averaging 710,000 viewers) before returning Oct. 4. It airs at 9:30 on Thursdays, but that night often sees all eyes on CTV, with the powerhouse duo of The Big Bang Theory and Young Sheldon anchoring the night from 8 to 9 p.m. But Hale said she's not concerned about taking on the Sheldon Cooper juggernaut (although she admitted that the network is "thrilled" that Big Bang is coming to an end next year).
"We consider our Big Bang to be Wednesdays at 8," she said, referring to ratings hit Survivor. "CTV has Thursdays at 8, we have Wednesdays at 8, and then we duke it out for the rest of the schedule. Our focus is on all other nights of the week."
But buyers have been lukewarm on Global's comedy pickups; during the L.A. Upfronts, few of the comedies (from any network) got buyers talking and Media Experts' annual fall TV predictions passed on most comedies as well.
Hale said she's not one to make predictions on comedies, but added that it could be premature to write any off. "You have to let things breathe," she said. "It's a challenging thing to stick by a show that may or may not be knocking the lights out. But Seinfeld didn't knock the lights out in its first season."
Returning series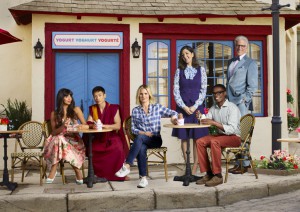 While 9-1-1 is not a completely new show, it is new to the fall schedule after steadily climbing its way up the ratings amidst last year's midseason slate. Hale said it's another example of what happens when a network takes a chance on a show.
"We kept our eye on it, and we saw that no one had picked it up in Canada," she said. "We saw a lot of great talent both in front of and behind the camera. It's a Ryan Murphy show, and it has Jennifer Love-Hewitt and a great supporting cast. I think audiences know, they can tell the difference, when a show can really deliver on what procedural audiences want."
A potential rising star for Global is The Good Place (pictured right), a philosophical comedy starring Kristen Bell and Ted Danson currently in its third season. The Sept. 27 premiere of The Good Place took in an AMA of 887,400, a rise of 16% over last year's.
Hale said The Good Place is certainly quirky, and admitted that the creators, as well as both Global and U.S. network NBC (which airs the show south of the border), were "still really trying to figure it out" in the first season. "I think it speaks to the value of sticking with something when you see a hit," she said. She noted that NBC's strategy of promoting the first two seasons of The Good Place on Netflix has given the show a boost. "It's the kind of show you have to watch from the beginning," Hale admitted. "So I think the strategy of promoting the on-demand platforms is really strong."
Also on the rise from last season is S.W.A.T. Its premiere's AMA (1.27 million) was 10% higher than the series' average last year.
Still performing strong are long-running dramas NCIS, Survivor and Bull, pulling in audiences of 1.94 million, 2.05 million and 1.84 million respectively.