CBC unveils mid-season premiere dates
The winter slate will feature three scripted female-led procedurals and a new series starring Arlene Dickinson.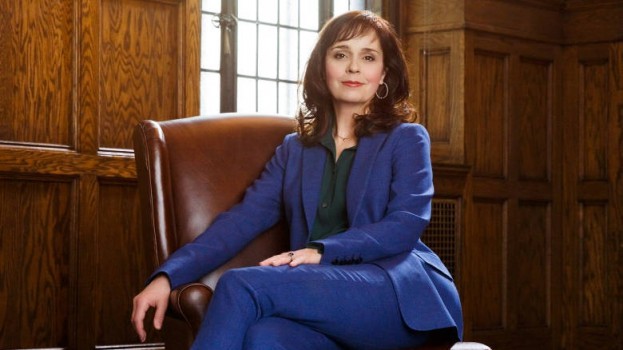 Canada's national broadcaster has revealed more details about its mid-season slate, including premiere dates.
When the pubcaster announced its new series for the 2018-19 TV season this past spring, most of the new titles' premiere dates were confirmed for mid-season, while returning shows such as Still Standing and Mr. D were slotted for fall.

Female-driven procedural Coroner will be the first to premiere. The drama, which follows coroner and single mother Jenny Cooper (Serinda Swan, Ballers) will hit the airwaves Jan. 7 and air Mondays at 9 p.m. The series is based on the books of M. R. Hall and created by Saving Hope creator Morwyn Brebner.
Limited series Unspeakable, which focuses on Canada's tainted blood scandal, will debut Jan. 9 and air Wednesdays at 9 p.m.
A number of fall TV series moved to mid-season, including Kim's Convenience and Schitt's Creek. Both will begin airing Jan. 8, joining another mid-season mainstay, Workin' Moms (which premieres the same night). The three make up CBC's Tuesday "comedy night," starting with Kim's at 8 p.m.
Also in the comedy category is new series Cavendish, an East Coast comedy from the creators of Picnicface. Cavendish will debut Jan. 10 at 9 p.m. The comedy follows two brothers who return to their small Maritime town to assist their ailing father, but end up uncovering all the strange quirks of the town.
Following the January premieres, CBC will roll out more new shows in March. The reboot of drama Street Legal starring Cynthia Dale as savvy attorney Olivia Novak will hit the airwaves March 4 and air Mondays at 9 p.m. IGP and Broken Clown Productions produce the series. Another female-led procedural, Diggstown, will premiere later that week, March 6 at 8 p.m. Diggstown stars Vinessa Antoine (Being Erica, Heartland) as Marcie Diggs as a corporate lawyer who reconsiders her priorities following a family tragedy. It's the first scripted Canadian drama to star a black woman in the lead role.
New unscripted series Under New Management will feature Arlene Dickinson helping entrepreneurs build their businesses. It launches March 15 and airs Fridays at 8:30 p.m.
Digital-first series Northern Rescue, which is slated to drop on the CBC's VOD app before moving to linear, has yet to have its premiere date set. CBC promises it will be confirmed "in the near future." Northern Rescue stars William Baldwin as a widowed father who takes control of a search and rescue centre.
Also returning:
Heartland (premiering Jan. 6 and airing Sundays at 7 p.m.)
Burden of Truth (premiering Jan. 9 and airing Wednesdays at 9 p.m.)
Little Dog (returning Jan. 10 and airing Thursdays at 9:30 p.m.)
The Stats of Life (debuts Jan. 11 and airing Fridays at 9:30 p.m.)
Fall series Murdoch Mysteries, This Hour Has 22 Minutes, Dragons' Den, Exhibitionists, Hockey Night in Canada and Road to the Olympic Games will all continue into mid-season.