Women rule Canadian media consumption: report
Plus, live TV still comes out ahead of SVOD, according to the latest Global Media Intelligence Report by eMarketer.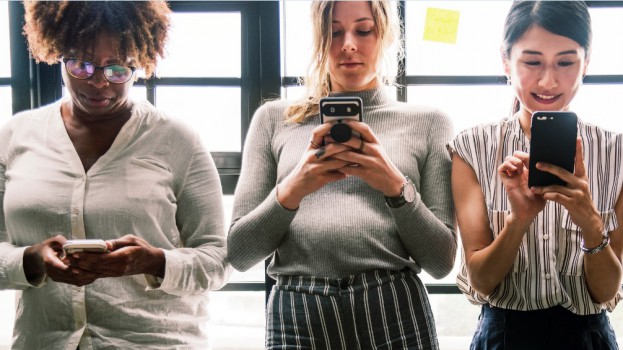 Women are taking the lead when it comes to media use, consuming more traditional media than men overall, according to a report on global media use in 2018.
The Global Media Intelligence Report 2018, now in its eighth year, analyzes traditional and digital media use among internet users aged 16 to 64 in 40 countries from Argentina and Brazil to India, Turkey and Vietnam. The report is a joint effort of market research company eMarketer, tech company Global Web Index and media network Starcom.
According to the report, Canadian women are more likely to read magazines (43.3% of women versus 40.5% of men), use a tablet (54.8% versus 49.1%) or a smartphone (88.5% versus 86.9%), listen to the radio (83.3% versus 76.1%) or watch TV (87.6% versus 83%).
Meanwhile, men are more likely to read newspapers (53.4% versus 47.7%), use Smart TVs (35%) and are a tad more likely log onto desktop and laptop computers (85.8% versus 85.7%).
Overall, Canadians aged 45 to 54 are the most likely to listen to the radio (88.4%) and watch TV (93.7%), whereas the 55- to 64-year-old demographic is most likely to read magazines (52.2%) and newspapers (67%).
A significant number – 79.7% – still say they listen to the radio, amounting to more than one hour per day.
The report draws a correlation between the increase in age and an increase in print, radio and TV consumption, with metrics showing traditional media being consumed the least by 16- to 24-year-olds and social media and VOD being consumed the most (82% and 87% respectively).
The report states that traditional broadcast TV and VOD has a lower penetration in Canada than many other countries surveyed, a fact it attributes to the geographic diversity of Canada, giving more remote areas spottier coverage.
Most (85.3%) people aged 16 to 64 watched TV in the month prior to being surveyed in the first half of the fiscal year, amounting to more than two hours per day, versus more than 90% of respondents in The Netherlands, New Zealand, Taiwan, Turkey and Germany.
When they do watch TV, Canadians are most likely to do so through live broadcast (70.6%) with SVOD coming in second (61.2%). More than six out of 10 of people reported watching TV content on Netflix or similar subscription services in the past month.
Desktops, laptops and tablets were the most popular source of internet for Canadians, whose average daily use amounted to 3 hours and 43 minutes compared to two hours and seven minutes per day on mobile. However, 87.7% of Canadians own a smartphone versus 85.5% of desktop and laptop owners.
Metrics on usage worldwide show that smartphone usage among internet users is largely over 90%, with eMarketer estimating that mobile ad spend – which includes display, search and ad spend on tablets and excludes SMS, MMS and P2P messaging-based advertising – will reach more than $189 billion this year (32.1% of ad spend). That number is expected to grow to over $232.34 billion (22.9%) in 2019 and $354.79 billion (11.4%) by 2022.
While digital ad spend is estimated to reach 45% of global ad spend in 2018, TV is still the most popular content-based medium according to the report.
Traditional media ad spend – which includes directories, magazines, OOH, radio and TV allots for 55.4% of media ad spend worldwide. In North America, 50.4% is spent on traditional media ad space.
According to the report, North America's total media ad spend will reach $235.23 billion this year – the highest in the world – with Asia-Pacific set to spend at an estimated $211.10 billion. Western Europe comes in third with a spend of $106.73 billion, followed by Latin America ($30.54), Middle East and Africa ($23.91) and Central and Eastern Europe ($18.16).