What topics get Canadians Tweeting most?
Music, media and family topics rule for users, and many don't mind bringing brands into the conversation.
Twitter Canada's latest research efforts show that most of its users are open to brands on the platform – and, in fact, actively seek out content.
According to research released Nov. 6, just over half of users (55%) publish opinions about brands and products on Twitter, and 72% say they seek out opinions on brands and products on the platform.
Twitter conducted the research globally across 23 different markets, and is currently diving into what makes each market unique. Besides brand interactions, it also studied what topics and verticals users are most interested in.
The biggest common interest among Canadian Twitter users is media – just over 45% of users regularly follow or engage in the topic on the platform. That's followed by music (42%), family and children (38%) and sports (37%). Professional topics such as business and job-seeking are lower on the scale at 32% and 31%, respectively.
When it comes to those topics, Twitter says its users tend to go to the platform for discovery first – 89% say they see news on Twitter before TV.
"Tying paid media to what's happening is more important than organic in many ways," says Michelle Slater, head of B2B marketing at Twitter Canada. "Listening into the conversation is a good way to participate in a meaningful way and understanding what their target audience cares about."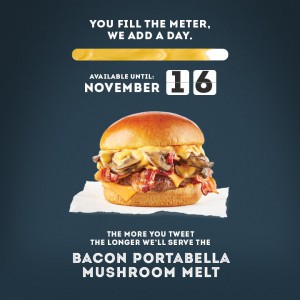 She used Chevrolet Canada and Wendy's as examples of brands that have used conversation on campaigns. Chevy used the platform to promote its partnership with The Amazing Race Canada by hosting a user trivia contest. The campaign resulted in 53,000 answers sent from followers (with more than 49,000 correct, which Twitter said is a sign that users were engaged with the show) and 7,700 new followers for the auto brand's Twitter account (a follower increase of 17%).
Wendy's Canada was even more interactive, she says, as the campaign invited users to Tweet "#MeltOn." More Tweets would result in extending the length of time the limited edition burger was available (the campaign launched Oct. 15; the burger is still available).
But, she adds, multiplatform campaigns are still key to success. She noted that Wendy's used a television commercial, which is currently running, to keep the news about the burger out for a longer period of time.
Looking further at Twitter analytics, Slater noted that there's been significant growth in video. She says the next step in developing the platform and creating more brand opportunities is to create more premium video content. She pointed to the newly launched Sportsnet series, Ice Surfing, which she says the company would like to create more of. "We want to give people more reasons to come back by providing better and faster content."