Branded Cities wins the West Edmonton Mall
The place-based media company will deploy more than 40 faces in the mall, from directories to large-format spectaculars.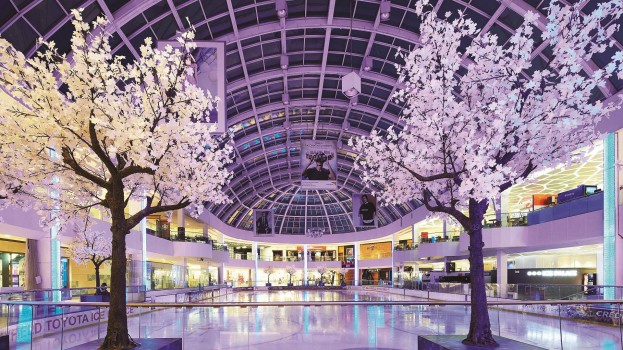 OOH and place-based media company Branded Cities has secured a long-term partnership with the West Edmonton Mall, which will see the company provide interior and exterior advertising faces to the shopping centre.
The partnership will go live in January, when the first set of 40 interior directories will be installed. Toby Sturek, president of Branded Cities Canada, says the remaining large format digital spectaculars, both indoor and outdoor, will be deployed within the first six months of the year.
West Edmonton Mall is the largest shopping centre in North American in terms of square footage (it occupies 5.3 million square feet). It boasts more than 800 shops, two hotels, attractions including a roller coaster and hockey rink, and attracts approximately 30.8 million visits per year. Sturek says the "destination" nature of the mall makes it an appealing partnership.
"Normally, when you have a destination like this, you certainly have footfall traffic, so it speaks not just to shopper marketing but also to people having more leisurely travels through the mall," he tells MiC. "Having that audience made a lot of sense to fold into our demographic portfolio and the way we go to market."
The mall is currently in the midst of a revitalization process to increase traffic and improve the experience. Sturek says this will create even more opportunity for Branded Cities to monetize the space. "We're removing all the static interior signage and developing something more modern." In particular, he said, one of Branded Cities' incoming spectaculars over the mall's ice rink will be the crown jewel of the installation. "We think it's going to create a very iconic image."
Branded Cities has a mix of outdoor and place-based advertising. It has an existing partnership with Cadillac Fairview, which owns other major malls such as the CF Toronto Eaton Centre. But the West Edmonton Mall, owned by Triple Five Group, rounds out its presence in the west. "We've got Toronto, Vancouver, Montreal, but we've never had a mall in Edmonton. This strategically fills a need." In addition to the mall, Branded Cities operates advertising for more than 500 bus shelters in the city, as well as some outdoor spectaculars.
Sturek would not reveal the length of the partnership but reiterated that it was long-term.