Verizon Media, BuzzFeed announce layoffs
Cuts at Verizon would affect approximately 7% of its workforce, while BuzzFeed is looking to shed 15% of its staff.

Verizon Media to cut 7% globally
Verizon Media, formerly known as Oath, has announced that it will lay off 7% of its global workforce.
As of the 2017 merger of Yahoo and Verizon that resulted in the creation of media group Oath, Verizon Media Group boasted 14,000 employees.
A spokesperson for the company confirmed to MiC that the company would undertake a restructuring and that 7% of the workforce would be affected. The spokesperson did not specifically answer whether or not the layoffs would affect Canada. The company also did not state what areas or departments the layoffs would come from, but simply said it planned to realign teams across both Verizon Media and the broader Verizon company.
Rumours of layoffs at Verizon have swirled since last December when Verizon reportedly took a $4.6 billion write-down on Oath. This was shortly before it officially renamed Oath to Verizon Media. The company spokesperson confirmed that since Guru Gowrappan became CEO of the media division last October, the leadership team has been working through a "strategic review" of Verizon Media.
This is the second set of layoffs for the company; in 2017, Verizon cut just over 2,000 employees, including some from its flagship editorial brand, HuffPost.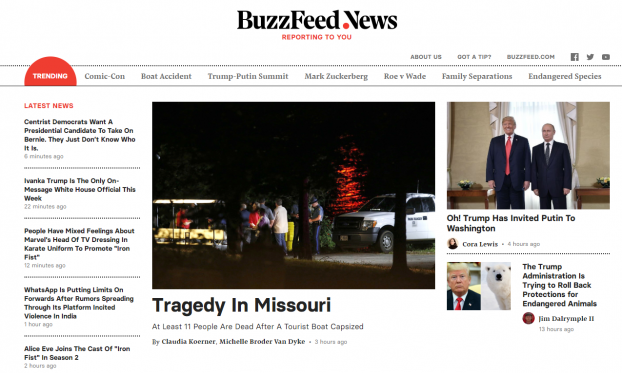 BuzzFeed announces layoffs
Last night, digital media company BuzzFeed announced that it is looking to shed 15% of its workforce, estimated at just over 215 people.
The layoffs were first announced through a company memo sent by founder and CEO Jonah Peretti to staff at around 6:30 p.m. on Jan. 23. In it, Peretti stated that the restructuring is to reduce the company's costs and improve its operating model in order to proceed without having to raise funding from outside investors.
A representative from BuzzFeed confirmed media reports and shared Peretti's memo with MiC, however declined to comment further or answer questions regarding what areas or offices the layoffs would come from. Cuts will be sometime next week.
In his memo, Peretti stated, "We've developed a good understanding of where we can consolidate our teams [and] focus in on the content that is working." The area of BuzzFeed News has been an area of much speculation in the media; the company's news operation has gained a sterling reputation since its launch in 2012, producing high-profile scoops on the Trump administration and the political and economic impact of the "fake news" phenomenon. But Buzzfeed has indicated that its news operations don't pull in the same revenue as its entertainment-related content; last year it began attaching a footer to its news stories inviting readers to be part of its "membership" program  by donating between $5 and $100 in order to support its news operations.
BuzzFeed's news division has not been affected by layoffs in the past.