Spotted! A peanut inside a candy inside a mirror
Reese's promoted its new sweet treat with a nod to the popular Infinity Mirrors exhibit.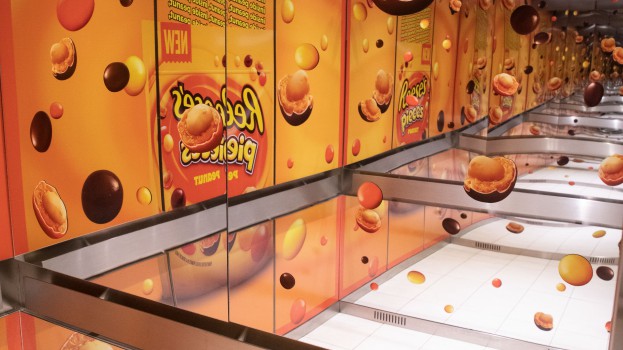 Reese's Pieces Peanuts new sweet treat got a sweet promotion across Canada last month, inspired by one of the country's most buzzed-about art exhibits.
The Art Gallery of Ontario's "Yayoi Kusama's Infinity Mirrors" exhibit drew long lines when it first came to Toronto in 2018, reportedly drawing more than 165,000 people. Among those inspired by the colourful and oftentimes surreal exhibit was a creative team member from Hershey's, which owns the Reese's brand.
So when it came time to promote the candy with a peanut inside the peanut-butter-and chocolate candy the marketing team used the mirror-heavy, Instagram-friendly exhibit as inspiration.
In what the team dubbed "Peanutception," candy pieces on mirrors in elevators created an infinity effect in eight high-traffic, downtown Toronto offices in February. UM did the media buy and Anomaly was the creative agency for this very creative promotion. UM also worked closely with media provider Media City, which specializes in place-based media.