Toys "R" Us up to bat as new Blue Jays sponsor
The retailer is aiming for a home run with kids and families by having a big-league presence at regular games for the next three seasons.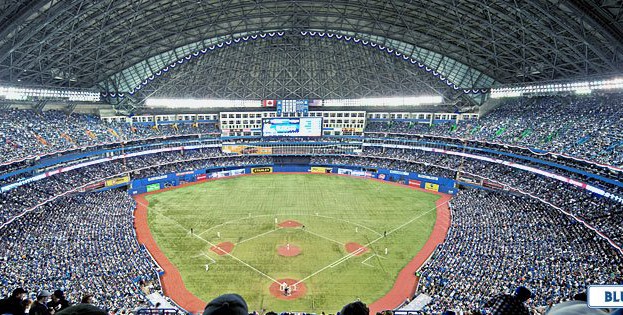 The Toronto Blue Jays' regular season officially begins Thursday, and the franchise has welcomed a new official sponsor to the ball game: Toys "R" Us Canada.
The three-year deal will see Toys "R" Us sponsor family-friendly activations around the team, including integrating children's birthday celebrations into stadium events, as well as collaborations on key marketing promotions.
The aim of the partnership is to connect the Jays to more kids and families. Melanie Teed-Murch, president of Toys "R" Us Canada said in a statement that the brands have "tremendous synergy… as we both strive to create moments of joy for families."
The main feature of the sponsorship is the new Toys "R" Us Canada Family Fun Zone, which will create fun and interactive family-themed activities during Jays home games throughout the regular season (the team's opening series will see the MLB team face off against the Detroit Tigers at the Rogers Centre).
There will also be branded outdoor festival activations at select games during the summer months, as well as regular appearances from the retailer's well-known mascot, Geoffrey the Giraffe. The company will also support exclusive birthday parties for members of the Jr. Jays Club, while Ace, the Jays' longtime mascot, will make special appearances at Toys "R" Us stores.
Toys "R" Us Canada's logo will be featured behind home plate, on digital media signage, as well as via social media campaigns and game giveaways.
The retailer has been on a quest to "reinvent" itself this year following the recent closure of its U.S. parent company. Despite the shuttering of Toys "R" Us outlets south of the border a $300-million acquisition by Toronto-based Fairfax Financial allowed the 82 Canadian locations to stay open. Although revenues in Canada came to more than $1 billion last year, the retailer, which was already facing stiff competition from e-commerce giants like eBay and Amazon, is now faced with the marketing challenge of reminding Canadians that it's open for business.
It's revitalized its brand assets with a new company logo (featuring a maple leaf) and is investing in its digital, mobile and e-commerce platforms this year.