Spotted! Pizza Pizza temporarily changes its colours
One central Winnipeg location is making a splash to court fans of the Jets.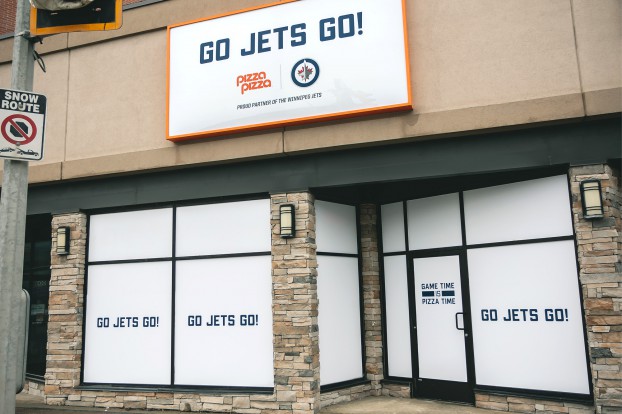 When it comes to brand colours, Canadians would be remiss to picture anything but bright and vibrant orange when thinking of pizza chain Pizza Pizza.
That's why Winnipeg residents most likely did a double take earlier this week when one location in the city traded that signature orange for new signage – mainly white, with a little royal blue and red.
It may have looked like the space was perhaps ushering in new tenants. But there was also something familiar about the colours. Pizza Pizza was still active, but had merely jumped on board the "Winnipeg Whiteout," a tradition that stretches back to 1987 and sees Winnipeg Jets fans wear all white to playoff games. The Jets have their first match in this year's Stanley Cup Playoffs tonight at 8 p.m.
From the exterior and signage of the building to the pizza boxes and uniforms, the Pizza Pizza's presentation, along with an accompanying OOH media buy, the chain has aligned itself with the Jets in order to build more brand affinity among hockey fans. The activation will remain throughout the entirety of the Jets' Playoff run, along with special discounts.
It's the first time in more than 50 years as a company that Pizza Pizza has branded itself with a colour other than bright orange. Other locations in Winnipeg will serve pizza in special themed boxes and uniforms, but only the Portage Ave. location has changed its exterior colours.
The location leveraged a number of current brand assets to create the campaign (with creative designed by The Local Collective) and purchase the superboard to display the full whiteout ad (with media buying by Media Experts).