Randy Otto honoured abroad
The Pattison Outdoor president on why the OOH industry is so healthy, and what it needs to do to stay ahead.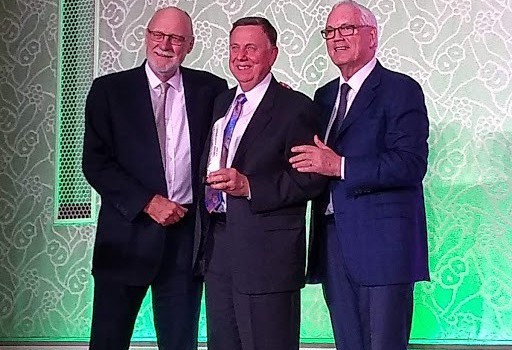 Pattison Outdoor president Randy Otto has received a lifetime achievement award with Federation European Publicite Exterieur International (FEPE).
FEPE serves as a global industry organization focused on the advancement of the OOH market. Otto received his award May 2 at the organization's annual International Congress Gala in Dubai.
FEPE has been around for 60 years now. Although it was founded in France, it held its first-ever world congress in Toronto in 1960. Otto says FEPE plays an integral part in bringing together not only OOH vendors and companies worldwide, but also other OOH associations (such as COMMB in Canada).
For Otto, who has been in the industry since 1976 (serving as president of Pattison Outdoor since 2004), the award is as much about his achievements in the broader OOH industry as it is about his work with Pattison itself.
"In the last 15 years, I feel Pattison has done a number of very innovative things with new technologies in outdoor. But in the last 10 years, we've worked diligently to bring the Canadian industry under OMAC – now COMMB – to help develop industry standardization when it comes to effectiveness."
Otto spearheaded the launch of Pattison's proof-of-performance system, EyeWitness. The company has also been working with Google for more than 10 years, collaborating with the tech giant to allow for open mapping for products and advertisers.
His passion for the industry extends far beyond the company, he says. He's not surprised that, of all media, OOH is the one media format (besides digital) that's set to grow in investment in the coming years, even if that growth is modest (that's according to global reports from eMarketer, GroupM, Zenith and more).
"Out-of-home is, in my opinion, the one advertising media that is truly complementary to online. We've seen disruption from online advertising to newspapers and magazines, we've seen it in radio… but that technology has not been detrimental to our media. Because all indicators are that out-of-home is still continuing to grow."
But now is not the time to get complacent, says Otto. For Pattison, growing in the digital space will be crucial. He says the company is working on developing its digital inventory in order to "capitalize and exploit that complementary media relationship." Acquisitions in the last decade, such as place-based vendor OneStop and, more recently, IMA Outdoor, have gotten Pattison on track to stay ahead of the game, but Otto says it's continuing to look for opportunities.
"We suspect that there's going to be continued consolidation within the industry, particularly with some of the smaller outdoor companies," he says, indicating that Pattison is looking to pull out all the stops to stay on top. Otto also says he isn't ruling out looking south of the border for more opportunities. Pattison is currently only in Canada, but Otto says the company may look to the U.S. for opportunities to expand its footprint, expertise and knowledge.