By the numbers: Kawhi, oh my!
CARD explores the impact the Raptors have had on Canadian media, and how the team's breakout star could affect CPMs.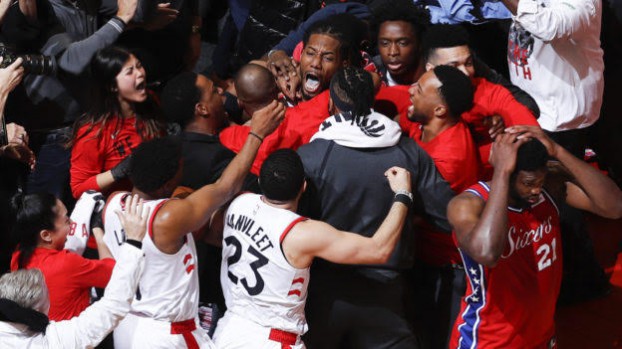 It was a shot heard 'round the country. Perhaps for the first time since Jose Bautista's famous bat flip, the Canadian sports world rallied around a single high-stakes moment as though their lives depended on it. On May 12, with mere milliseconds remaining in the game, Toronto Raptors star Kawhi Leonard took the fateful shot that bounced off the rim twice before delicately slipping through the net, cinching the series for the Raptors and knocking the Philadelphia 76ers out of the tournament.
And from there, it only got better. The Raps – the only professional basketball team in Canada – went on to declare victory over the Milwaukee Bucks in six games, snatching a ticket to their first-ever NBA finals as a franchise.
The frenzy over the red-hot Raptors and Leonard himself have prompted many to ask the question: could basketball soon replace hockey for the title of "Canada's game?"
Things have been quiet on the hockey front; it's been more than a month since a Canadian NHL team hit the ice, with all three franchises getting knocked out of the Stanley Cup playoffs in the first round and viewership dwindling soon after. Meanwhile, media companies are feeling the impact of the Raptors – and so are brands.
Who's watching?
The fateful game against the 76ers reached a total of 5.8 million unique viewers, resulting in an AMA of 2.2 million viewers – making it, at the time, Canada's most-watched NBA game ever. Exactly as Leonard took the shot, the audience peaked at 3.8 million viewers. Overall, Sportsnet's round one coverage took an average audience of 1.3 million viewers and a reach of 6.8 million, up 113% from its coverage last year.
According to NBA Canada, viewership of the second round was up 73% year-over-year across the two networks, and followed the most-watched regular season in Canada.
On social media, the video of Leonard's buzzer beater went viral, capturing a combined 16 million views across the NBA's official platforms. Of those views, 10 million are from Instagram.
But the Raptors managed to top themselves once again; the team's deciding match against the Bucks on May 25 drew 3.1 million viewers on Sportsnet, with a reach of 6.8 million and a peak of 5.3 million viewers at 11:10 p.m. Sportsnet's coverage of round two took an AMA of 2.1 million viewers, with a reach of 8.4 million, marking a 77% increase over the Raptors' last conference final appearance three years ago.
For context, Jim Kozak, VP of Mediacom Sports and Entertainment, tells CARD basketball is starting to eclipse the Grey Cup. The CFL's big match took in an AMA of 3.13 million in December, dropping by one million views. "The games went from around 780,000 to a 2.2 million average audience against Philly. Then it went up to 3.1 million – that's almost a one-million increase from series-to-series. So this isn't just that numbers have eclipsed the Grey Cup – this is something you can repeat seven times, versus just the one big game."
More broadly, impressions around the NBA are lifting. According to Toronto-based Solutions Research Group, 28% of Canadians follow basketball in some way (TV, digital, social), up from 24% four years ago. For 18 to 34, that's jumped to 40% (up from 28%).
Daily tracking by Charlton Insights and YouGov Sports shows that engagement in the NBA among current fans has increased by 40% since March 1, while media buzz and content about the NBA has gone up by 158%. Overall engagement with the NBA has gone up by 67%, which Charlton founder and president Gord Hendren says is a sign that the NBA could continue to court new fans.
And, according to Twitter, the Raptors team account has 30% more mentions in 2019 than the Leafs and Jays combined. Christopher Doyle, head of sports partnership, tells CARD the platform has "never seen the volume or range of conversation that we've seen this year. From  brands, global celebrities, international media and millions of fans, the Raptors conversation on Twitter is hitting record highs [and] is easily eclipsing their past playoff runs."
So who are these viewers, and what's motivating them? Kozak says NBA Canada has done a great job of creating buzz around Canadian players and prospects, while networks like TSN and Sportsnet have hired more Canadian talent for broadcasters and analysts, giving the sport a "distinctly Canadian" feel. But the other big factor, he says is diversity. For players, managers and brand ambassadors, basketball is seen as more inclusive, he says.
The diversity of basketball also gives it a leg up for demographic appeal. While the NHL has spent the last several years promoting its "Hockey is for Everyone" campaign (which seeks to extend the NHL to more fans including LGBTQ people, people of colour and women), the effort has at times been met with skepticism and criticism by some in hockey media. And studies show that such efforts aren't necessarily paying off – SRG found only 26% of respondents said their favourite sport was hockey.
But for basketball, diversity of players is more evident in players and in audiences. The same SRG study found basketball was most likely to be the favourite sport of new Canadians (29% identified it as such). Second place honours went to soccer. Newcomers to Canada can't be underestimated, according to the survey, because they are just as likely (in fact, slightly more likely) to identify as sports fans than the general population. While 68% of Canadians identify as sports fans, 70% of New Canadians do.
"Advertisers really want to activate across as many demos as possible, and basketball has proven to be really engaging with the most diverse group of Canadians," says Kozak. "And with immigration on the rise, it's likely only going to become more popular."
Who's activating?
Brands activations have already been on the rise for NBA Canada and the Raptors; at the end of the regular season, NBA Canada reported a 46% year-over-year increase in activations, marking the largest growth rate in the league's history.
But since Leonard's fateful shot made him the hero of the postseason, brands have had a heyday.
Numerous brands have attempted to create campaigns around coaxing Leonard to sign with the Raptors and return next year, such as offers of free food for life from Rodney's Oyster House, or a free penthouse condo from one of three high-end Toronto hotels and residences (the movement has been nicknamed the "Ka'wine and Dine" movement). While most of those Ka'wining and dining are going for earned media and PR campaigns, paid campaigns are indeed on the rise.
NBA Canada has recorded 32 official partners this year, with various brands from Unilever Canada, FootLocker and Air Miles counting themselves among those official partners. Merchandise sales are also up 26%.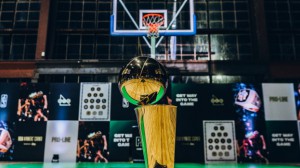 On Twitter, brands currently activating around the Raptors include Tangerine, OLG and Warner Brothers Canada.
Kozak said the interest coming through Mediacom has increased exponentially, both from new partners and existing sponsors looking to expand on their efforts. Returning partners include Snickers, which extended its "You're just not yourself" brand messaging to a viral prank featuring Raptors player Delon Wright in a dated and unflattering suit (resulting in 1.4 million total engagements). UberEats has also extended its Jurassic Park activations from March Madness into the Playoffs, which has allowed it to integrate its partnered restaurant brands, such as McDonald's.
Meanwhile, new sponsor Fisherman's Friend paired not with one of the Raps' top players but with head coach Nick Nurse, campaigning around Nurse's reliance on the product during tough games. "They have a great investment in reaching their core demo, and this allowed them to still connect with them while also going younger and broader," says Kozak.
What's next?
While Kozak says interest in the Raptors is on the rise, there's a potential peak: Leonard still has not yet signed for next year, and while it's resulted in some good PR from those desperate to woo Leonard, Kozak says it could have a big effect on CPMs as well.
"The future of CPMs will really depend on what the team will look like moving forward. There's question marks around a certain key player."
But he says networks are currently striking a balance between being fair and giving brands a chance to participate while still capitalizing on their success broadcasting the finals. "We have no Canadian hockey teams in the Playoffs, so for every broadcaster who has the rights, they're looking to capitalize on what they have."
For official sponsorships, prices vary wildly. For example, Sun Life's jersey sponsoring for the Raptors cost a reported CAD$5 million per year, while Scotiabank paid a reported $20 million to re-name the former Air Canada Centre to the Scotiabank Arena (also the home of the Leafs).