Start, Stop, Change: Snap goes to the games
Snapchat's now got gaming – our experts talk about the rise of online games, what CPMs are like and whether or not the ads are effective.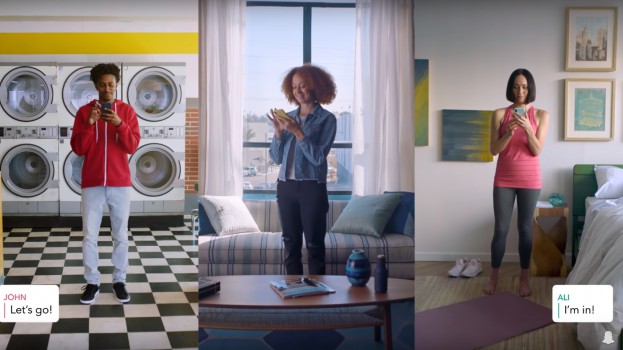 If you're older than 35, you probably mainly know Snapchat as that app teenagers are always distracting themselves with, and the source of numerous absurd and trendy filters (like the recent viral gender-swap filter).
Of course, if you're older than 35 and in media, you'll know a lot more about Snapchat. You'll know that the platform had a lot of ups – prior to its IPO, the platform was seen as a potential disruptor in the social media space, and it's managed to court the engagement of Gen Z more than Facebook. And it's also had a lot of downs – it was heavily criticized for its 2018 redesign, which caused a mini-exodus of users, and its stock price has been seemingly vulnerable enough to be affected by something as simple as a dis from a Jenner.
This year, the platform appears to be finding its footing once again. It beat out analyst predictions with its most recent quarterly report, citing 2% year-over-year growth in daily active users. It's seen success on the ad side since it's switched to a performance-based ad operation.
And now it's entering a new arena: gaming.
Last month, the platform unveiled a collection of new mobile games in-app. Three of those games are making their way to Canada – Bitmoji Party and Snake Squad are already live, while Zombie Rescue Squad will roll out at a nearby date to be determined.
Representatives from Snap declined an interview with CARD, but did confirm some good news for advertisers: the games will be monetized.
Specifically, the games will make their money through Snap's Commercial units, which were introduced last year. The six-second video format ads are non-skippable.
Lina Kim, group account director at Havas, tells CARD she can see advertisers being quite hungry for these ads. "It just gives us another way to get into the platform and put our brands in front of consumers. Advertisers are always looking for an injection of something new."
The games are also unique because they're in the chat section of the Snapchat app, not in the main feed, which is devoted to more professional content like Publisher Stories, the Discover platform and Snapchat's new Shows format. Many in the social space have noted that even though Gen Z is passionate about Snapchat, they tend to opt more for the messenger interface than the professional content. The games are an opportunity to generate ROI out of what is possibly teens' favourite section.
Fil Lourenco, VP of digital at Havas, says combining games with chats also presents a unique value proposition. "There's a different level of engagement versus your typical mobile game. You're playing with a friend, there's a spontaneity to it versus the daily ritual."
Mobile gaming in general has seen a massive take-off. A global study by GlobalWebIndex which surveyed 100,000 people (2,000 in Canada) found that 66% of respondents have played a mobile game in the last month, up from 63% four years ago. That's even higher for younger crowds (74% for 16 to 24-year-olds, 73% for 25 to 34-year-olds). And, unlike console gaming, there's less of a gender divide – men and women were even for previous-month engagement at 66%.
But Adrian Capobianco, president of Vizeum Canada, tells CARD ad spend hasn't quite caught up to the time spent on games – and they need to. "As a substitute for other forms of entertainment, it's massive. I think it was a good and smart move for Snapchat, but ad spend hasn't quite caught up to the audiences when it comes to gaming in general."
That could be because when it comes to different formats, the jury is still out on how effective they can be. Ads in mobile games range from interstitials and in-app banners to longer, reward-based ads (videos as long as one minute which reward players with extra lives, credits or other items for watching to completion). Lourenco says the video ads are typically traded on a basis of cost-per-completed views and are often in the 15 to 25 cent (per 1,000) range. Interstitials and mobile in-app banners, meanwhile, are described as "super-super cheap" because of the amount of inventory available. Additionally, says Lourenco, "They're just not that high of quality." And that's for both the advertiser and the user.
Kim says those six-second spots could be the saving grace for Snap. A lot of the past ad formats just "piss people off," she says. They're either low-engagement, inactive things like banners (which Lourenco pointed out also result in a lot of accidental clicks) or they're too obstructive. "It's usually around 15 seconds, or very interruptive stuff like interstitials that are very hard to 'x' out of. I think those six-second formats are smart. YouTube has seen a lot of success with six-second ads."
Lourenco quipped that he's now "just wondering how long it'll take Instagram to introduce gaming." Instagram has seemingly always been nipping at Snapchat's heels, introducing Snap's once-signature Story format in late 2016 before extending the format to Facebook, Messenger and WhatsApp. Lourenco pointed out that Facebook's Messenger product already has a similar gaming option, and with the Facebook parent co recently moving buying for all of its platforms onto the same back end, Lourenco thinks it could only be a matter of time.
If they do, Kim says it would be wisest to follow in the footsteps of Snapchat with a short video format, "versus trying to create something rewards-based."
Capobianco, however, says there's opportunity for more of a mix. "You can have CPM-based media, but you can also have engagement-type media, creating unique content experiences within games, as long as you understand the nuances of those environments. You can do sponsored gaming, sponsored free-to-play options, sponsored rewards. They're interesting options that get more engagement than just preroll."