Spotted! Casper turns the lights down low
The sleep company is doing its best to tackle light pollution head-on with a creative new OOH campaign.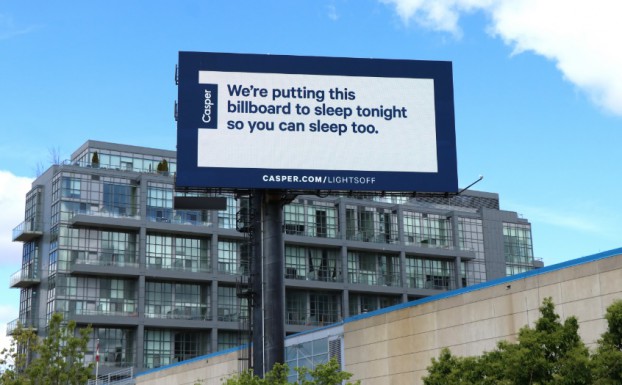 Bright lights, big city. That's the Toronto vibe, right? Sleep company Casper is trying a new approach to out-of-home advertising, with the digital billboards bearing its ads fading to black as night approaches in its new Lights Off campaign.
During daylight hours, the billboards along the Gardiner Expressway that neighbour the Liberty Village condos are home to a simple message from Casper in the brand's signature blue and white hues: "We're putting this billboard to sleep tonight so you can sleep too."
Around 9:15 p.m. each evening, the boards will mimic the setting sun, part of the brand's ongoing mission to "improve the sleep environment," Casper co-founder Neil Parikh tells MiC. "The environment around us impacts how we sleep. Light is a top environmental factor that often gets in the way of a good night's rest."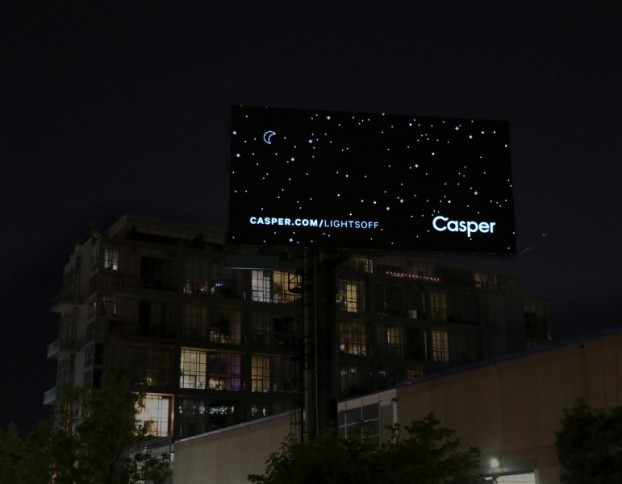 According to EcoWatch, Toronto is the fifth brightest city in the world behind Moscow, Riyadh, Montreal and Chicago. Light pollution is a growing concern, according to the Journal of Clinical Sleep Medicine, and has been attributed to such health issues as sleep disorders, depression and cancer.
Lights Off follows the launch of the company's Glow light – a natural lamp designed to help wind down naturally – and maintains the brand's use of creative, but thoughtful approach to advertising, Parikh says. The campaign runs until June 7 on three digital billboards on the Gardiner Expressway, Liberty St. East and Hanna Ave., the location of some of the largest Toronto billboards which Parikh says are known for disrupting sleep.
Cossette Media handled the media buy for the campaign, while creative was led by LG2.