Raptors fever draws viewers nationwide: Numeris
With The Big Bang Theory finished, CTV and Global dramas make their mark alongside HGTV's 'Island of Bryan.'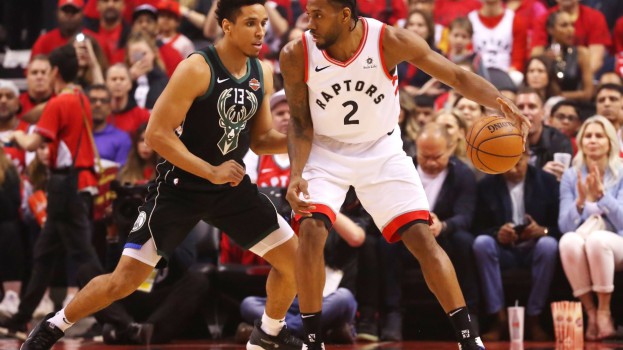 The love for the Raptors is spreading across the country as the Toronto team's win of the Eastern conference finals was the most-watched programming in Canada for the week ending May 26.
More than 2.5 million viewers tuned in to see the Raptors oust the Milwaukee Bucks taking the #1 spot in the Toronto/Hamilton, Edmonton and Vancouver/Victoria markets.
Procedural dramas NCIS and Chicago PD also drew in viewers – nearly 2 million – in all major markets, save for Quebec where nearly one million viewers tuned into cultural favourite Sucré salé.  
The curtain call on The Big Bang Theory has shaken up viewership in all markets making room for shows like HGTV first-season hit Island of Bryan (recently renewed for a second season) to make its way into the top three in both the Montreal and Calgary markets.
CTV dramas The Fix and The Village drew nearly 100,000 viewers in Montreal while Global action-drama Blood and Treasure had Edmonton audiences watching to the tune of 69,000 and CTV action- comedy drama series Whiskey Cavalier drew 44,000 Montreal viewers.
Canada (Anglophone)
1. Raptors vs. Bucks on Sportsnet Saturday at 8:33 p.m.: 2.57 million viewers
2. NCIS on Global Tuesday at 8:00 p.m.: 1.97 million viewers
3. The Amazing Race on CTV Wednesday at 8 p.m.: 1.44 million viewers
4. Chicago Fire on Global Wednesday at 9 p.m.: 1.37 million viewers
5. Chicago Med on Global Wednesday at 8 p.m.: 1.12 million viewers
Quebec (Francophone)
1. Sucré salé on TVA Monday at 6:29 p.m.: 934,000 viewers
2. Refuge animal on TVA Monday at 7 p.m.: 841,000 viewers
3. Les chefs on SRC Monday at 8 p.m.: 746,000 viewers
4. La poule aux oeufs d'or on TVA Wednesday at 7 p.m.: 725,000 viewers
5. Dans l'oeil du dragon on SRC Wednesday at 8 p.m.: 646,000 viewers
Montreal (Anglophone)
1. The Fix on CTV Monday at 10 p.m.: 49,000 viewers
2. Chicago PD on Global Wednesday at 7:59 p.m.: 48,000 viewers
3. Island of Bryan on HGTV Saturday at 9 p.m.: 47,000 viewers
4. The Village on CTV Tuesday at 8 p.m.: 45,000 viewers
5. Whiskey Cavalier on CTV Wednesday at 10 p.m.: 44,000 viewers

Toronto/Hamilton
1. Raptors vs. Bucks on Sportsnet Saturday at 8:33 p.m.: 1.04 million viewers
2. NCIS on Global Tuesday at 8 p.m.: 442,000 viewers
3. Basketball Central on CTV Saturday at 8 p.m.: 337,000 viewers
4. Chicago Fire on Global Wednesday at 9 p.m.: 316,000 viewers
5. The Amazing Race on CTV Wednesday at 8 p.m.: 308,000 viewers

Edmonton
1. Raptors vs. Bucks on Sportsnet Saturday at 6:33 p.m.: 87,000 viewers
2. NCIS on Global Tuesday at 9 p.m.: 81,000 viewers
3. Sharks vs. Blues on CBC Tuesday at 6:11 p.m.: 77,000 viewers
4. The Amazing Race on CTV Wednesday at 9 p.m.: 69,000 viewers
5. Blood and Treasure on Global Tuesday at 7 p.m.: 69,000 viewers
Calgary
1. Chicago Fire on Global Wednesday at 10 p.m.: 99,000 viewers
2. Island of Bryan on HGTV Saturday at 10 p.m.: 98,000 viewers
3. NCIS on Global Tuesday at 9 p.m.: 94,000 viewers
4. Raptors vs. Bucks on Sportsnet Saturday at 6:33 p.m.: 75,000 viewers
5. Chicago Med on Global Wednesday at 9 p.m.: 71,000 viewers
Vancouver/Victoria
1.  Raptors vs. Bucks on Sportsnet Saturday at 5:33 p.m.: 193,000 viewers
2. NCIS on Global Tuesday at 8 p.m.: 132,000 viewers
3. The Amazing Race on CTV Wednesday at 8 p.m.: 128,000 viewers
4. Sharks vs. Blues on CBC Tuesday at 5:11 p.m.: 128,000 viewers
5.  Rogue One: A Star Wars Story on Global Friday at 8 p.m.: 108,000 viewers
Photo by NBA Canada