Spotted! Lush takes a firm stand on shark finning
Lush's Vancouver HQ was like a scene straight out of Jaws – but it was scary for a different reason.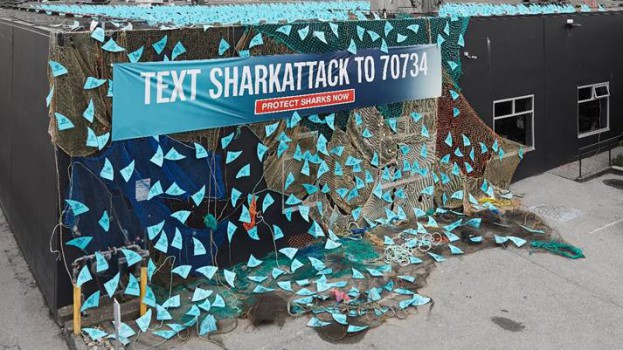 Does it seem like soap and personal care retailer Lush has been a little quiet lately?
The popular brand, headquartered in the U.K. with more than 250 Canadian stores, made headlines in April when it announced that it would be abandoning some of its social media accounts, such as its main Instagram, Twitter and Facebook accounts under the worldwide @Lush handle. The brand stated, "We do not want to pay to appear in your news feed" and vowed to instead focus more on its ongoing email marketing strategy, as well as traditional marketing channels (Lush's North American Instagram remains in operation, however).
Still, there are some things the brand won't be quiet about. Lush, which has had a longtime strategy of donating to social causes, mainly centered around animal and environmental activism, recently made a splash at its Canadian HQ on World Oceans Day.
On June 8, Vancouverites awoke to see the Lush HQ covered in 570 shark fins, tangled in fishing nets. This was part of an effort to draw attention to one of Lush's limited-edition soaps, which comes with a good cause attached.
Across the country, Lush temporarily re-launched its Shark Fin Soap, with 100% of the sales of the bar going toward the Rob Stewart Sharkwater Foundation, which was established in honour of the late Canadian filmmaker and environmentalist to educate and raise awareness of the plight of sharks.
According to the foundation, sharks are killed every three minutes for their fins.
With deep roots in Vancouver, Lush chose a highly visual display for its HQ because of its high visibility; train commuters into the city had a direct view to the action. On the train, Lush had brand ambassadors acting as "shark lifeguards," educating commuters on the shark fin trade.
Beyond the experiential activation, which lasted over the weekend, Lush also drove users to stores through a 40-second digital video about the plight of sharks.
It's using further guerilla marketing tactics by sending stickers to those who purchased the soap online, which it's encouraging people to mark businesses where a "#SharkAttack" has taken place, and products made with shark are sold.
Lush's experiential, PR and media efforts around the day were managed in-house.