Why Maple Leaf expanded to Pinterest
The food company targeted parents looking for creative meal solutions as it shakes up its brand and media strategy.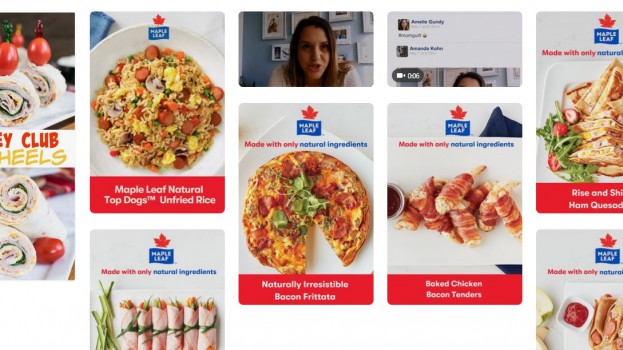 Maple Leaf has undergone a highly public transformation in terms of its food, its branding and its messaging – and now, it's transforming its media plan.
The Canadian food giant recently concluded its first-ever Pinterest campaign, creating promoted Pins under the banner of kid-friendly food in order to boost the brand's image and drive in-store sales.
Using a combination of interest and keyword targeting (with keywords including "easy lunch ideas," "family dinner" and "healthy kid snacks") food-focused pins featured single photos of one-dish meals and kid-friendly food featuring Maple Leaf meat products. The campaign, which wrapped up this month, delivered a 4% increase in brand favourability overall. Most significantly, it measured a 15% lift in favourability among men.
D'Arcy Finley, VP of marketing at Maple Leaf Foods, tells MiC that following its brand renovation, one goal is to make the brand a "badge brand" for parents, particularly "in our responsible decision-making head space."
He says he was tempted to consider Pinterest after undergoing his own kind of renovation – a home renovation. Suddenly struck by the ease of falling down the Pinterest rabbit hole of inspiration, he says he immediately saw marketing alignments. "Our parenting segment is constantly looking for inspiration and food that they love," he says. "Because it's a visually rich, contextual platform, it's really helpful in that."
The brand-lift results were enough for Finley to be satisfied with the campaign as a one-off. But, Finley adds, Maple Leaf is now looking at Pinterest as part of its long-term strategy. "We're in the throes of planning right now, and we have plans to partner with them on a whole bunch of fronts. We have a roster of brands in our portfolio, and everyone of them would benefit from Pinterest."
The Pins were part of a larger paid media effort promoting the new messaging able Maple Leaf's ingredient quality.
"We've had a long-standing traditional TV buy that we service almost exclusively through Bell [Media], but we also have a really great partnership with Google and YouTube in terms of getting content out," he says. While Maple Leaf's strategy is largely "video-based," besides Pinterest it also added some influencer work and an OOH buy. Maple Leaf did not work with a buying agency, and Finley says it typically prefers to work directly with media partners. "We've found it very fruitful," he says. "We keep our media partners directly engaged, and it's led to some wonderful strategic relationships."