Behind the Buy: McDonald's spends big on McDelivery
Using Snapchat, the QSR giant brought real billboards to consumers digitally, using augmented reality in a national McDelivery campaign.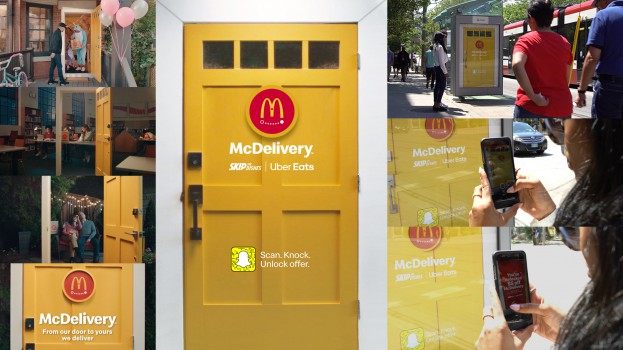 For a brand with worldwide recognition, like McDonald's, launching a campaign isn't so much about awareness as it is about giving consumers a fresh reason to stay tuned.
And, when the "product" isn't a fresh add to what the company has on offer, the challenge is even greater. When the time came to announce McDelivery was now available in more than 800 restaurants across the country, a national campaign had to stand out from previous efforts.
Combining a tried and true recipe of the brand's iconic golden yellow colour and its signature jingle with a first-to-market layer of technology that provided opportunities for interaction, resulted in the largest spend for McDelivery thus far (McDelivery was first launched in select markets two years ago).
"McDelivery is a big focus for our business," says Jamie Bone, national category marketing manager at McDonald's Canada. Where previously media spend to promote the home delivery function of the business was a market-to-market strategy, this effort aimed broader. "This is the first time we've been able to leverage those mass media channels like TV, so it's the biggest investment to date for McDelivery," she says.
Creatively, the campaign developed two familiar icons of McDonald's branding to drive home the new message of nationwide delivery.
Instead of golden arches, a golden door framed video moments to remind consumers to do what they do best (like relax in the back yard with family), and let McDelivery come to them. Similarly, the signature "bah-dah bah-dah-dah" jingle was altered to a rhythmic knock on that golden door. Says Bone: "The knocking of the door really felt like a good fit, because it really communicates that knock at the door could be your favourite McDonald's being delivered."
As TV spots and digital video appearing on social channels did the heavy lifting, Bone says the augmented reality experience the brand was able to bring to market with the help of Snapchat drove frequency in larger urban centres.
Logging into the social messaging app, users could interact with existing billboards digitally and download a $5 coupon to use with Uber Eats or Skip the Dishes. The program not only marks the first time globally that couponing has been executed through AR marketing technology, but the first time McDonald's had used AR in Canada at all. It was also the first use of AR Snapchat technology that worked in collaboration with out-of-home advertising in Canada.
The interactive element wasn't entirely focused on a younger demographic, but the team knew it would play well there, says Logan Lindsay, associate director of strategy at OMD Canada, McDonald's AOR. "The Snapchat layer really was about getting that engagement and really tying the offline activity, the out-of-home, to the online offer," he says.
Twitter, Facebook, Instagram and search engine marketing played "supporting roles," according to Bone and deciding to invest heavily in making TV and digital video the "major hitters," was very much in line with other large national initiatives the company has undertaken.
With new products coming to market regularly, the McDelivery campaign is one that continues to morph and is leveraged to convey those changes, Bone says. "We know that consumers are looking for on-demand food services. We're excited to continue to build out this new way that guests can interact with our brand."