SkipTheDishes enters the world of e-sports
The food delivery network is now the Official Food Delivery Service of the Toronto Defiant e-sports team.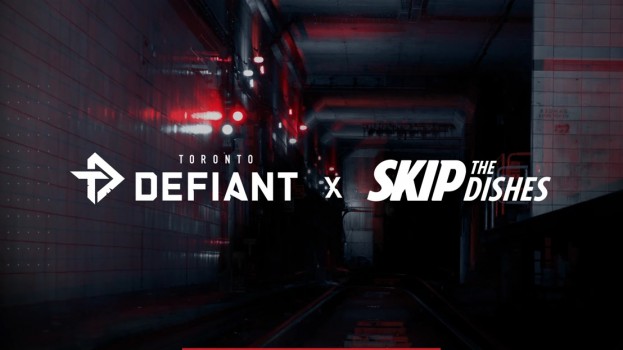 Meal delivery services SkipTheDishes is now working with OverActive Media (OAM), the Toronto-based e-sports and entertainment company which owns both the Toronto Defiant of the Overwatch League.
In addition to the delivery service being named the team's official food delivery service, the multi-year partnership includes giveways and contests involving selected Defiant players.
Tyler Keenan, OAM VP of global partnerships, says as the official season begins this spring, multiple integrations will begin including social and digital messaging, fan contesting, match moments content and experiential events for players and fans at Homestand Weekends (which take place in April and August). There will also be a few "surprise moments" with the brand, which Keenan could not yet reveal.
SkipTheDishes is the latest brand to join the OAM corporate partnerships family. Other sponsors include Bell, Canon, and Universal Music Canada, which signed on last month.
Skip's strategy has focused largely on positioning itself as the predominant food delivery app in the market (it claims to have more Canadian users than any other app; while its numbers have been difficult to back up as few of the apps make specific market stats public, a recent BrandSpark survey of Canadian consumers found Skip to be the most trusted among food delivery apps).
Nevertheless, Skip exists within a very competitive sector where brands are vying for similar audiences. Skip has been a big advertiser in more traditional media; for the last several years it has spent heavily on TV and radio. This fall, it upped its investment in OOH, part of a long-term strategy to target more urban consumers through outdoor and place-based media.
In December, it picked UM as its Canadian agency of record after previously working with True Media. At the time, Skip stated that it was looking to create more data-informed buying decisions.