Spotted! Hershey's gets nostalgic for Valentine's Day
The brand's two-day Union Station activation encourages love the old-fashioned way, with sweet snail mail.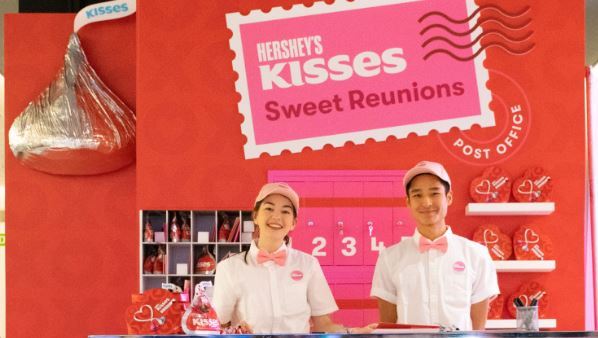 The only chocolate-laden holiday that can give Halloween a run for its money is Valentine's Day. And nothing says "I love you" like kisses – both the literal kind and the popular Hershey candy. Hearkening back to a time when someone other than Amazon mailed you a package, the brand is marking the holiday with The Hershey's Kisses Sweet Reunions Post Office, an interactive activation at Toronto's Union Station.
Visitors to the two-day pop-up, which kicked off Feb. 10, are invited to select complimentary Hershey's Kisses to mail to a loved one, with a personalized card all wrapped up in a heart-shaped gift box. Participants can also play in a live game, picking a number that corresponds with a mailbox to win prizes like flight or lodging vouchers and gift cards for – you guessed it – more chocolate.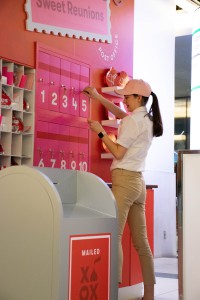 "In the age of technology, there is something about sharing something physical," says Rebecca Paddock, marketing manager for Valentine's and Easter at The Hershey Company.
This type of activation is a first for the brand, she tells MiC, "and really came to life with the idea that we know it can be hard to be apart from someone you love."
On bigger holidays like Christmas, people are more inclined to hop a flight to see a loved one, she says, but Valentine's Day doesn't see the same kind of action. So, the brand decided to give people another reason to celebrate and as Paddock says, bring Canadians together.
Hershey launched its masterbrand platform – "Life is Sweet" – in May 2019. Kisses, a sub-brand of Hershey's built on that messaging with its "Sweet Reunions" campaign during the 2019 holiday season, diverting part of its ad budget to a series of GoFundMe pages fundraising for Canadians to fly home to loved ones.
"That was the first iteration of Sweet Reunions," Paddock says, "and we're continuing that during Valentine's Day this year with a smaller-scale initiative but still broad impact across the country."
Although Hershey works with UM on its broader media campaigns, the activation was conceived and executed by the Mint Agency.