Torstar revamps Save.ca to chase bottom-funnel activity
The company says it has national advertisers down, but it's trying to focus more on local elements.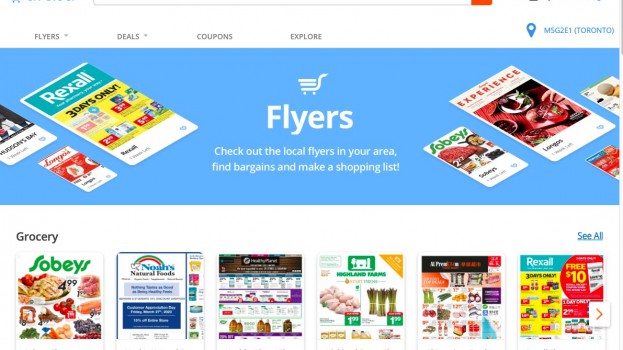 Save.ca, Torstar's flyer- and coupon-based platform, has undergone a revamp, with an aim of capitalizing on its one property that is most geared toward driving bottom-funnel conversions.
Brandishing the slogan "Revamped, renewed, rewarding," the digital platform has made design and content improvements to its website by employing a search-and-compare tool and category groupings to allow shoppers to find deals in their neighbourhoods.
"We made this website 2010-ish," explains Prannoy Kothari, senior manager of commercial products at Torstar.  "Technology has changed over the last 10 years, so it was time for an update. We also wanted to revamp our app."
The Save.ca relaunch is just one of the transformational investments that Torstar is making to improve its bottom line and improve digital products for consumers.
"It's one of our properties that deals with the low end of the funnel audience, which we don't have access to with any of our other properties," notes Kothari. Other vertical brands focused on finding items are Homefinder.ca and Wheels.ca, although those are more focused on the discovery stage.
With over 600,000 monthly visitors, Kothari says Save.ca plays a "significant role" in contributing to Torstar's bottom line, an important development since the company has had a rough go for the last several fiscal years in terms of revenue. The most recent quarterly results showed that revenues were down by 14% year-over-year, coming in at $124 million in total operating revenue. While digital revenues have grown in some areas, including local advertising within the community segment and other digital revenue streams, declines at eyeReturn marketing and other digital properties resulted in a 7% decrease in the quarter. However, digital revenues now represent 14% of Torstar's total revenues, up from 13% in Q4 2018.
Besides local advertisers, Save.ca is also plugged into national advertisers and retailers in order to give consumers who love to shop online a good balance of choice.
"We are really good at the national type of things, so we have connections with the larger retailers. Now we're trying to focus on the local side of things," says Kothari, who says that approximately 80% of Canadian adults use coupons to wring the most out of their budget.
Other local digital initiatives launched include the new Torstar Local product, which it's testing in North Bay, Ont.