TV viewership on lockdown (so far)
A dive into Numeris data so far shows that Canadians are looking more toward news, but certain scripted programs are providing much-needed comfort.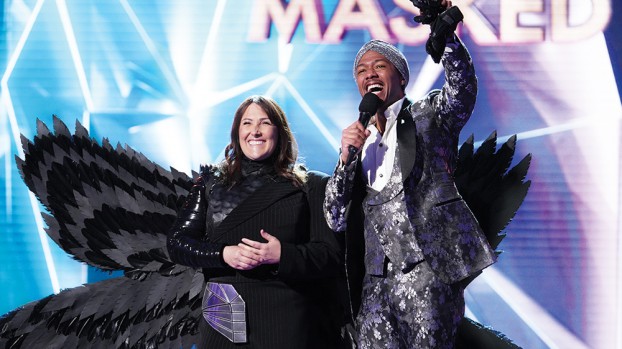 There have been numerous reports, both self-reported from Canadians and issued from broadcasters, on surges in linear television audiences across Canada during the COVID-19 pandemic. For example, CBC reports that audiences in the 25 to 54 demographic are up 17% week-over-week, according to Numeris data.
Rather than report on network-by-network stats focusing on key demographics or time slots, MiC has used same-day-plus-seven data from the Numeris top 30 from Feb. 3 until March 22 (lockdown measures began the week of March 16) to get a better look at what's going on with TV overall.
MiC has based its per night overview on the AMA of the top three shows on any given night. For example, on March 12, the top three shows were Grey's Anatomy (2.14 million), Station 19 (1.77 million) and the CTV Evening News (1.72 million viewers). So, that night registers as having a top-three average of 1.88 million viewers.
Here are some of the findings based on that data.
Viewership is similar, but shares have changed
A side-by-side look at each week's audiences show that top shows attract similar audiences week-by-week, with only minor variances. The same patterns generally follow from week-to-week – moderate dips on Tuesdays and Fridays, peaks on Wednesdays driven by programs like The Masked Singer and Survivor. The only true outlier came on Feb. 9; Sundays, normally lower than most days for top shows, raked in big views with CTV's broadcast of the Academy Awards.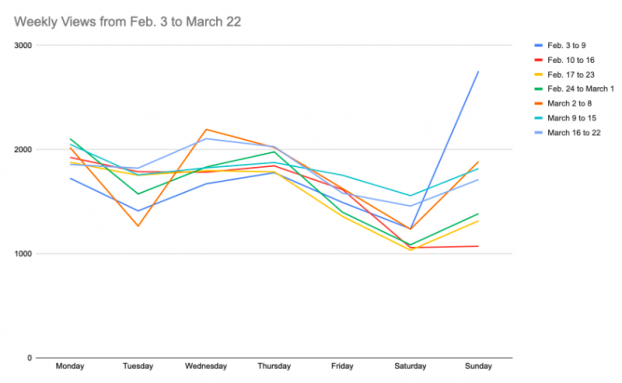 However, even though average viewership among top shows hasn't changed much, the programs that people tune into have begun to change.
On March 19, the top three programs for the night – the CTV Evening News, Grey's Anatomy and Station 19 boasted an average audience (across the three shows) similar to that which was pulled in three weeks prior (2.03 million, up slightly from 1.98 million). But news took a much bigger piece of the pie in the more recent week, with 35.3% of the average minute audience (up from 27.2%).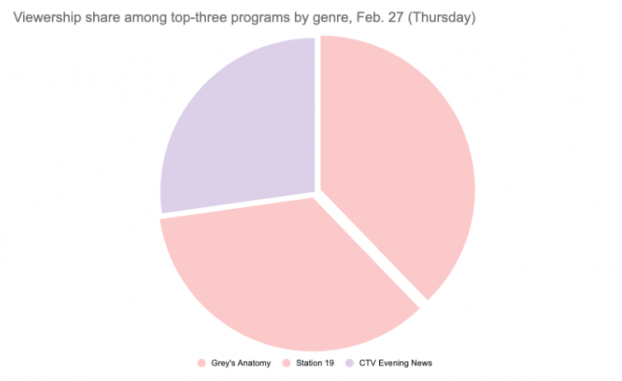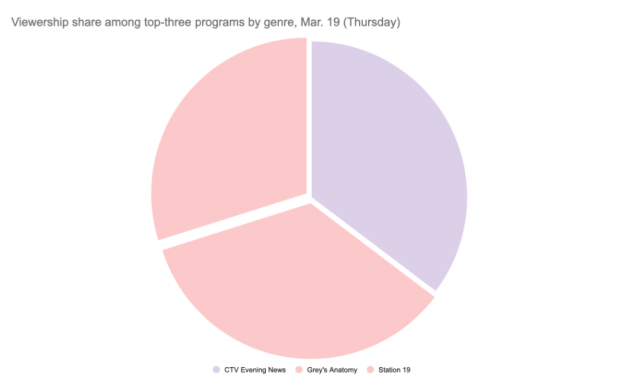 Bad news can't shake Canada's "power programs"
News programs are undoubtedly on the rise and playing an increasingly important role in the country's media consumption.
However, that doesn't mean Canadians are tuning away from the tried, tested and true TV series that keep them entertained from week to week. Looking at some of the most consistently resilient programs – Survivor, The Masked Singer and Grey's Anatomy – the numbers show that even though circumstances are changing and Canadians are looking to news, they're still seeking entertainment.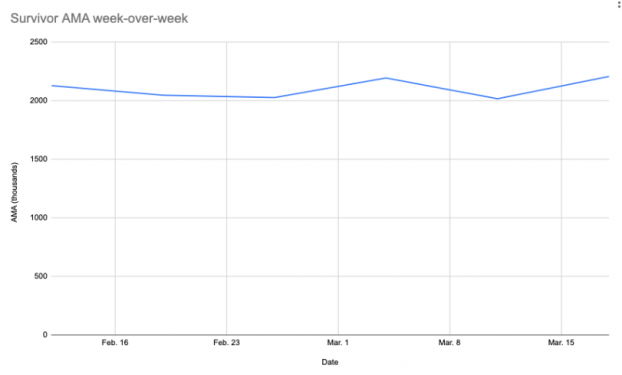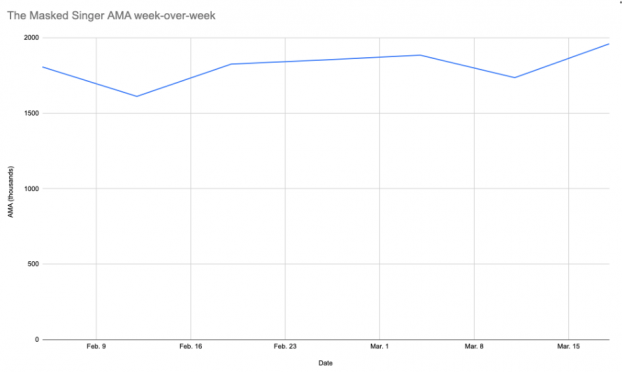 In fact, all three of those shows demonstrate a slight lift in audiences during the first full week of increased lockdown measures (March 16 to 22).
A new slate for Saturdays
Saturdays have never had as many consistently high finishers as weeknights, but prior to the increased concern and coverage around COVID-19, the evening usually depended on strong results from Hockey Night in Canada and Saturday Night Live.
Because of the live nature of the two programs, they were among the first series to announce a hiatus following the widespread pandemic. Take a look at the share of viewership by genre on Saturday nights as time goes on.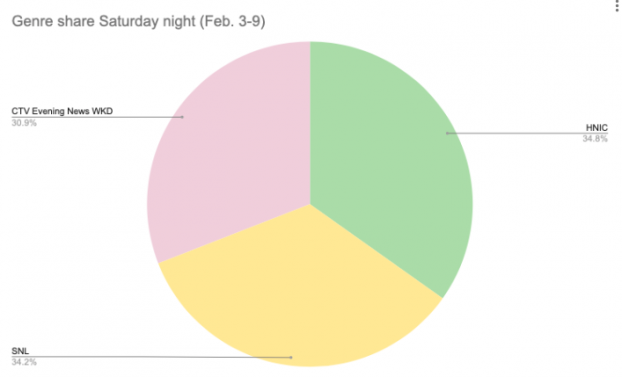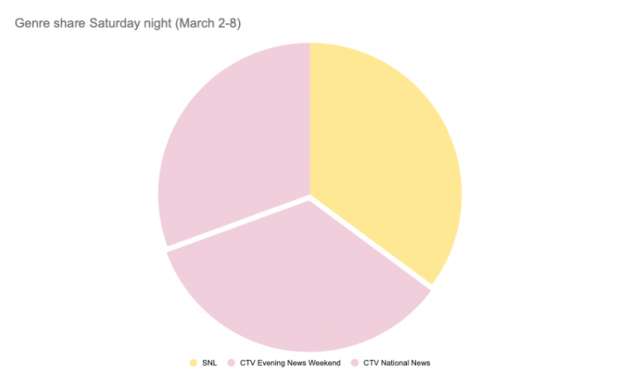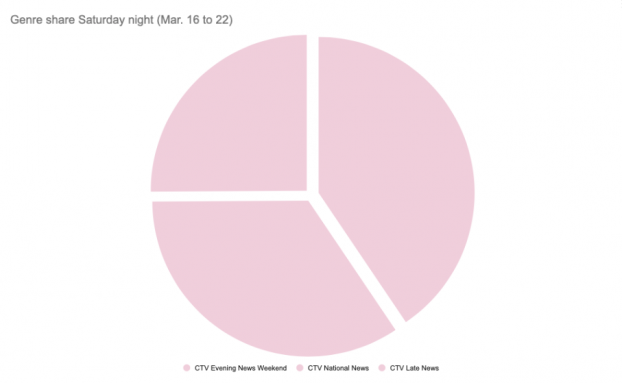 Nevertheless, viewership on Saturdays is generally strong if not trending slightly upward; the question now remains, if brands look to align themselves with positive, brand-safe news, can Saturdays provide an alternative?