Hudson's Bay forgoes a traditional media buy to plug its iconic stripes
The iconic pattern can be used to adorn clothing and decor within the popular Animal Crossing game.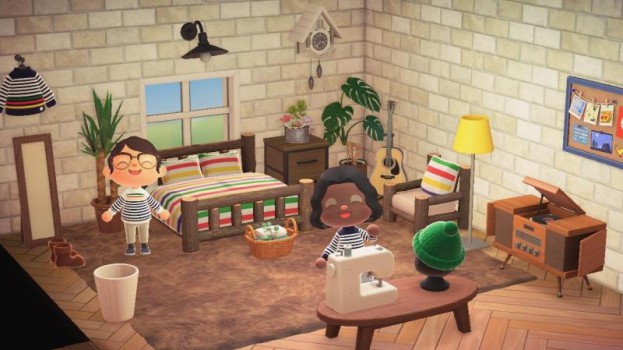 In a world where we can no longer congregate the way we once did, many Millennials and Gen Z are using the vastly popular Nintendo game Animal Crossing: New Horizons to connect with friends near and far. Some are even using it to go on "dates" and have "parties." The game was released at the start of the COVID-19 pandemic and has sold 11 million digital copies worldwide.
The lean-back, world-building game also allows people to "shop." There's no e-commerce function or ways for brands to make money from the game, but some advertisers have still opted to create custom content in the fantasy world. Twitter and Microsoft were among the first to create official branded T-shirts for characters during the pandemic.
Now, Hudson's Bay Company has launched a product line and its iconic branding within the game. As of last Friday, users can download two versions of the iconic Hudson's Bay stripes sweater (one white and one navy) and can also download the pattern to adorn any number of items – like furniture and decor for their virtual houses.
Meghan Nameth, SVP of marketing for Hudson's Bay Company, admits to MiC this isn't a traditional media buy – brands don't have to pay to be integrated into New Horizons, they simply have to upload their own creative and issue a download code for the patterns – but it is part of its overall media strategy.

"Consumers have changed their habits quite dramatically during this time," says Nameth. "Throughout all this, our goal is really to be where the consumer is."
Besides gaming, which she says is a surefire way to attract Millennials and Gen Z, it's also looking at live TV. While the brand has decreased its media spend throughout the pandemic, it recently launched a new TV ad to promote its e-commerce items. "We've made a very deliberate choice to invest in TV and digital video, because that's where people are right now."
At the same time, she says, spend has come out of radio, because "there's much less drive time."
Nameth says HBC is also looking at possibly using footage and images from the game that feature players using the products and turning that UGC into paid social content. "It's been really interesting to see how people take that iconic branding and use it in their own space," she says.
In terms of metrics, Nameth says, it's a bit of a gamble. Nintendo doesn't release how many users have used the download code, so the brand has had to go based off of anecdotes and social feedback alone. Everything so far has been very positive, she says, so even though it's hard to quantify success, she considers it a win as part of the overall media strategy.
"It's quite easy to integrate creative into Animal Crossing, so this was something we were able to execute in-house. We're really looking to connect with this Gen Z and Millennial consumer group, and this is their entertainment of choice."
While the creative was developed by HBC's in-house team, Nameth says Cossette Media – which it just began onboarding as its new AOR – helped advise the overall media strategy and it also executed HBC's traditional media buys throughout the pandemic.