How TheScore pivoted in a world without live sports
From TikToks to jersey rankings and draft trackers, the sports media company is pulling out all the stops – and snagging sponsorships.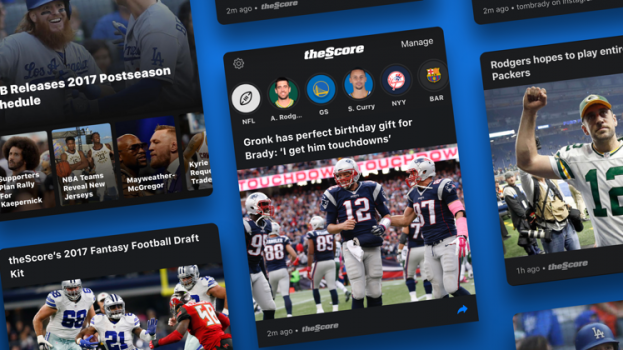 One of the most drastic, but necessary pivots during the lockdown of 2020 has to be those of TheScore – sports media left with a platform but no live sports to talk about. The mobile sports news company rallied all its resources, its online site and all of its social media accounts, to keep sports fans engaged during this pause in the action.
First, TheScore content team came up with new and novel content offerings such as close to 20 different interactive quizzes that generated millions of impressions across social and the mobile app. Popular editorial pieces include the GOAT Uniform Series, which ranked the best 100 uniforms in sports history, and the oral history of Steve Nash's move from Dallas to Phoenix.
Coverage of e-sports leagues and events has also been a big draw for TheScore. Aubrey Levy, VP content and marketing, says, "We were seeing incredible growth independent and prior to the pandemic. We were on a nice upward trajectory with audience viewing growth and obviously during this window without sports, there's been a greater spotlight put on these sports. I think last month we did over 28 million on our YouTube channel."
Currently, TheScore has a reach of four to five million monthly active users. Its social accounts (Twitter, Instagram, and Facebook) have a monthly reach of approximately 100 million sports fans. It also has one of the a fast-growing TikTok with 1.4 million followers, adding almost 750,000 followers since February 2020 alone – and it's recently undertaken its first branded TikTok partnership with gaming company Epic Games.
"This is a new channel for us to help brands reach a highly-engaged and younger demographic of sports fans," says Levy. "We're midway through that and it's performing very well. We're excited to use this, hopefully, as a catalyst to help other brand partners to get their messages across using our presence on TikTok."
On TikTok, with video format, full screen, vertical, Levy says his team can get really creative at under 15-seconds each video. Levy says, "We create motion graphic pieces that tell stories around sports. For Epic, we designed custom pieces of creative that were designed with the esthetics of the game being marketed in mind. Then we tied those to sports events, things we reported on. So that's how we brought the two together."
Other notable activations with brands includes the Head and Shoulders Canada sponsorship of the NFL Draft Tracker. The tracker delivered in-app coverage of the NFL Draft and drove eight-figure views across TheScore's app and social platforms.
Given the hiatus of live sports right now, Levy says TheScore has been able to drive considerable engagement across its platforms and to keep sports fans coming back at a time when there are no live games going on. "We're ready to go when hockey comes back, and we already have a ton of editorial content lined up around that. MLB and NBA are working on plans and the NFL has announced their season for fall. I think there's going to be a glut of sports content. It doesn't change anything in terms of the interesting content we've been producing, just more content to cover. On top of which, being able to give our Score fans actual games. If anything, it should just supercharge what we're currently doing. Fans are hungry for sports content; we're excited to see how voracious that appetite is."