TVA integrates new ad units for paused video
The idea, says the company, is for ads to play with the context of the pause in their creative.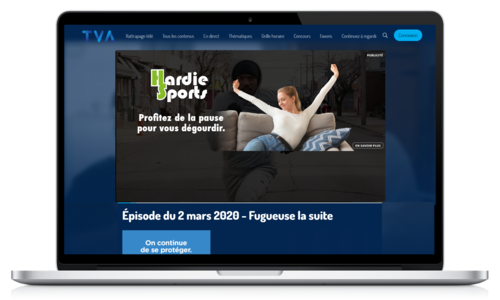 Quebecor has launched Pause Ad, a brand-new premium ad format that is activated when a user pauses a full-length video. The format is now available on the TVA.ca website, which runs on long-form video and online TV shows.
The ads are static without sound or animation.
Renaud Langlois, director of digital operations at Quebecor, says what defines this product that it's unexpected, but still won't affect the user experience. "The element of surprise is what we're looking for advertisers to use, to have the context reflected in the creative, such as a message, [like] 'you need a rest' or something that is specific to the moment. We also have guidelines. We don't want the message to be too bold or have too much text.  Something very visual – and then a little punchline. So, ads that are very custom-made for this experience."
Langlois says the results of Pause Ad's early testing are higher and better than expected. There's only a very small box that's clickable on the ad, but responses have been 10 times higher than banner ads where the whole surface is clickable.
In addition to reaching engaged targets, Pause Ad offers an advertising format that is integrated into a premium video environment. 2.7 million videos are viewed monthly on TVA.ca, reaching no fewer than 1.9 million users per month.