TheScore sees revenue drop nearly fourfold in Q3
But the company did see some gains in esports, with video views jumping 113% year-over-year.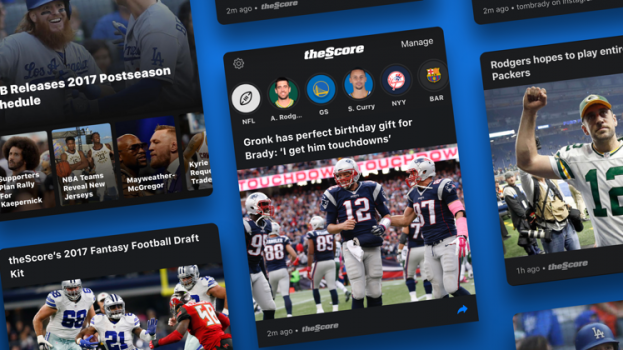 A lack of live sports throughout the COVID-19 pandemic has hampered a number of media companies, but few have felt the impact quite like TheScore.
The sports-specialized media company, which has also been expanding into mobile sports betting, brought in $2.4 million for the three-month period ended May 31 – just 28% of what it had brought in for Q3 of 2019. This is despite retention of nearly 75% of its monthly active users (2.9 million), with 35 sessions per user. By comparison, during Q1 (its last pre-COVID quarter), TheScore recorded an average of 123 sessions per user per month.
Revenue for the first nine months of the fiscal year is $18.3 million, down 26% compared to last year. Prior to Q3, revenue for the first half of the year was down only 2%.
EBITDA loss for the quarter was $8.7 million, compared to just $1.1 million for the same period last year. The increase in loss was the direct result of the pandemic's effect on live sports and revenue, with some additional expenses incurred due to the company's gaming expansions.
Cost management measures included a reduction of discretionary expenses and engaging in government programs such as the Canadian Emergency Wage Subsidy. Senior management agreed to forego 25% of their salary from May 1 to Aug. 31 in exchange for an equivalent grant of restricted stock units in the company. A similar program was also made available to all full-time staff. TheScore's cash use in the quarter was limited to $3.9 million.
TheScore also announced that this past month, it entered into a $6.25 million revolving term credit facility with the same Canadian chartered bank that maintains its preexisting $5 million revolving demand operating credit facility. This is intended to provide the company with additional liquidity to mitigate the impact of the pandemic on operations. The interest rate on the credit facility bears the interest rate at the lenders prime rate plus 2% annually. It is repayable by July 15, 2021.
Emerging growth areas
Despite a lack of live sports content, esports content saw a new high in engagement. With 145 million total video views for the quarter, that represented a year-over-year growth of 113%. Total watch hours reached 9.7 million, representing a 76% year-over-year growth.
With Major League Baseball having returned several days before the quarterly report was announced, CEO John Levy said in the company's results statement that sessions had doubled compared to days prior, while betting activity was also up, with the total betting handle close to what it was on Super Bowl week.
Much of the quarter was focused on product development, specifically around TheScore's betting product – gaining temporary licenses for online sports betting and wagering in Colorado, Indiana and becoming an authorized gaming operator of Major League Baseball. Its aggressive focus on its betting product has intensified since it secured $40 million in funding in September 2019 from GTA-headquartered Fengate Asset Management, which was specifically tied to its development of a sports betting product.
The company's gross gaming revenue was $81,000 for the year and $766,000 for the nine months of the year. However, when taking into account promotional costs and fair value adjustments on unsettled bets, net gaming revenue is still negative – $22,700 for the quarter and $244,000 for the first three quarters of the year.