Postmedia amps up Toronto Sun's website
It's the first of Postmedia's tabloid sites to be redesigned, with a focus on ease of browsing and uninterrupted scrolling.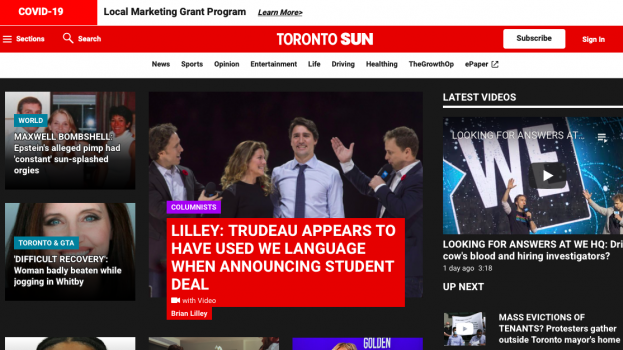 Toronto Sun online readers will enjoy a better user experience the next time they visit the publication's website – on every platform.
The site has gotten a revamp as part of a broader Postmedia plan to revamp numerous brands online. The Toronto Sun is the first of the company's tabloid brands to launch a new website. Redesigned websites will roll out for the Calgary Sun, Edmonton Sun, Ottawa Sun, Winnipeg Sun and Vancouver's The Province between now and the end of August.
Last month, Postmedia also revamped the website for its flagship national brand, the National Post. The goal of the redesigns is to not only create a better user experience, but also add new tools and functionalities for advertisers.
Like the Post, the Sun's redesign focuses on less clutter and more white space for ease of browse.
The site delivers an uninterrupted scrolling experience and a faster load time, which according to Google PageSpeed Insights, is up to 68% faster to load on mobile devices.
The site is cross-device compatible and offers improved accessibility with its curated index and category pages and primary navigation menu that can be used with or without a mouse. For advertisers, the redesign features ad slots on the home page and long-form content for improved performance due to viewability.
The redesign is being supported by an integrated advertising campaign produced in-house by Postmedia's marketing team.