Bell Media brings V and Noovo under one banner, rolls out campaign
The company says there are lots of opportunities for Noovo, which has high awareness among 18 to 34-year-olds.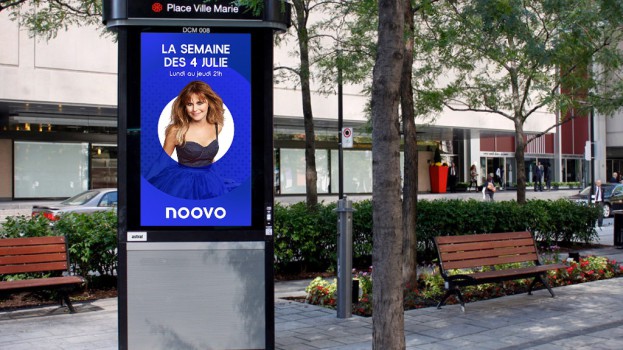 At the end of Aug., V, the French-language conventional network acquired by Bell Media, is being rebranded Noovo to match in with its popular ad-supported VOD service, Noovo.ca.
Following a teaser campaign that began Aug. 6, the rebrand will be supported by a high-profile paid media campaign delivered via radio, TV, out-of-home, movie theatres, magazines, and the web. The "C'est nous"
campaign was created by the Bell Media Agency team in Québec. The ads feature Noovo's homegrown stars
and promotes the new fall programming lineup that premiers on Sept. 14.
Most of the ad campaign will take place during the months of September and October with key programming
support activating during the fall season.
The decision to rebrand was based on consumer research the network conducted at the end of 2019, says
Stéphane Boulay, senior director of marketing and creative at Bell Media. "We decided to create a new beginning
through a strong brand evolution instead of creating from scratch an entirely new brand with all the awareness
phase needed. Instead of having two brands [V and Noovo], our goal is to have one fully-integrated brand that
will also make brand communication easier and consistent."
He says there are great opportunities with Noovo, which was initially a 100% digital brand when created four
years ago and has strong awareness among the 18 to 34 age group. "Our goal is to make it a broader and fully-
integrated conventional TV destination. Overall, one brand with multiple points of contact and a broad offer of
video content. It's quite innovative to take an exclusive digital brand and grow it to become a fully integrated
conventional TV and digital destination. We want Noovo to be engaging, genuine, open-minded, and fully
modern."