All aboard the tea-tea-see!
Will Twisted Tea's creative double-entendre wrap catch city-dwellers and streetcar users in their tracks?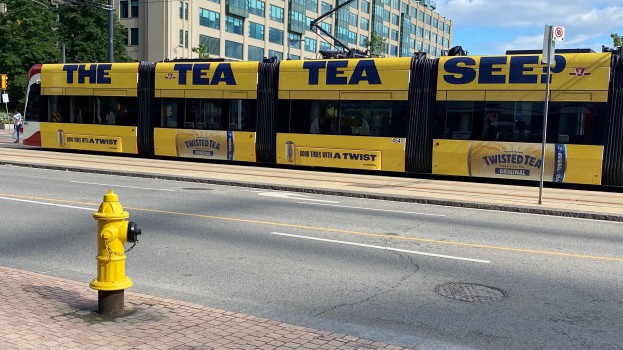 Ready-to-drink brand Twisted Tea has been cruising through the city this summer. Unfortunately, with experiential, sampling and guerrilla marketing gone by the wayside this summer, Twisted Tea has had to take a different tactic and is riding the TTC – or rather, the tea-tea-see.
Two different streetcars have been cruising through the city, wrapped in Twisted Tea creative, inside and out. It's part of an effort to promote the brand during the ideal RTD-consuming season – the dog days of summer.
The TTC buy went live in late June, but the extended paid media component launched earlier this month. The brand struck a partnership with online social brand Streets of Toronto, creating a co-branded contest.
The main goal of the contest, says brand manager Jessica Boland, is to create a push toward user-generated content. Users who see the "Tea-Tea-See" are urged to take a photo and upload it to social media with the #TeaTeaSee hashtag and tag the Streets of Toronto account. Those who do will be entered into a draw to win a prize pack valued at $500, including Twisted Tea branded speakers, Twisted Tea coolers and a gift card to Boston Pizza, which Boland says recently began carrying Twisted Tea on draft.
The latest step of the campaign includes Twitter amplifications to further engage customers.
Boland says there were many discussions around the effectiveness of the TTC as an advertising medium at a time when transit use is way down. According to a recent study by Novus, Toronto's major transit hub traffic is currently at 80% of what it was this time last year – and it's only seen a small lift throughout the pandemic.
But Boland says there's still value in the TTC as there are still people who rely on it to get to work every day. She adds that it's not just the people on the inside of the streetcar, but those on the outside who are potential targets. After being cooped up inside for several months, many people are exploring the streets more now than ever before.
Boland says that one of the big advantages of the TTC buy was that, despite only wrapping two cars, the coverage is not limited to two routes. With the cars being dispatched on different routes, Boland herself says she's seen the ads all over the city.
The Moosehead-owned brand worked with Media Experts, as well as social agency Society @ME. It also worked with King Ursa on creative, while PR agency Craft PR secured and executed the partnership with Streets of Toronto.