How WFH life affects media consumption
More TV is being consumed during the day, while talk radio and podcasts are fighting an uphill battle.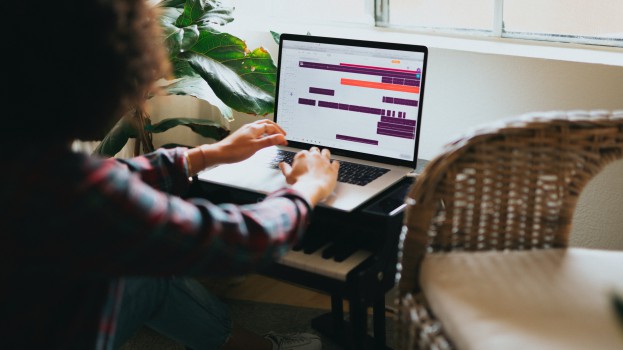 While working from home had become more common in recent years – particularly in fields like tech – nothing has accelerated the trend quite like the COVID-19 pandemic. And while many people are mixed on just how productive they are, how lonely they are and how much they enjoy it, one thing's for sure: it's had an affect on how much media we consume (and when we consume it).
A new North American study by Nielsen indicates that, for some media, daytime is now a lot more valuable than it once was.
The study divided people into two different cohorts – people who traditionally work from home (traditional WFH), and people who are newly working from home thanks to COVID-19 (COVID WFH). Traditional WFH employees tend to feel they're more productive at home (60% feel this way), while COVID WFH employees have a mixed view (39% feel more productive, and 33% say they are the same level of productive that they were in an office).
People who have worked from home for a longer time tend to consume more content throughout the day (an average of 10 hours and 27 minutes per day). People who are newer to WFH life consume around 20 minutes less than traditional WFH respondents per day.
Newbies boast a larger share of digital minutes consumed (57% of their time, or five hours, 44 minutes) compared to WFH veterans, who spend a combined 44% of their media consumption time on live/time-shifted TV and connected TV (three hours, 39 minutes on the former; one hour, nine minutes on the latter) and 54% of their time (five hours, 38 minutes) on digital.
For streaming, Netflix is the most popular platform, with 34% of respondents saying they use it most frequently. YouTube comes in second at 20%. Third-place finisher Hulu (11%) is not available in Canada, but 8% of viewers gravitate toward Amazon Prime Video. Total minutes spent streaming increased by 74%, and while all age groups increased the amount of streaming they do, the biggest share increase came from people 55 and up – in Q2 2019, they accounted for 19% of minutes streamed. In Q2 2020, they accounted for 26%. And, 25% of respondents say they've increased the number of paid streaming services they subscribe to (73% remain the same, and only 2% say they will reduce the number).
For people working at home, listening to music is the most common everyday occurrence (44% listen to music – either streamed or via radio – every day, and 35% listen at least once per week). Spending time on social media is also an everyday activity for 31% of from-home workers, as is watching TV (linear or streamed), specifically on a break from work (33% do so daily, 32% weekly). Additionally, 29% watch TV while working (with sound) daily and 25% watch it daily while working with no sound.
Podcasts and spoken-word/talk radio are less likely to be listened to on a daily basis (23% do so daily), but 30% do so weekly.
The most common type of video content consumed while working (or on breaks) is news (47%), but comedy and movies also pull in strong numbers at 40% and 36% respectively. In terms of specific types of news, local just barely edges out national by two percentage points – 64% of news viewers watch local first.
Despite the increasing number of daytime sports matches, such as the NHL qualifying round and the first Playoff round for the Toronto Raptors, which aired as early as 1 p.m., only 24% say they watch sports during the day.
Even despite the increased media consumption, 55% of the people surveyed feel they had fewer distractions than at the office due to colleagues, long lunch breaks and frequent meetings. Additionally, 55% say they're more productive because they're not wasting time commuting.
But that also means the media that surrounds the workday is different. With the morning and evening commute no longer being relevant for many workers, 54% say they're waking up later than before. On the other hand, 49% say they're going to bed later.