CTV unveils its new digital platform
The online offering is completely ad-supported and will now offer free-to-watch content directly from linear.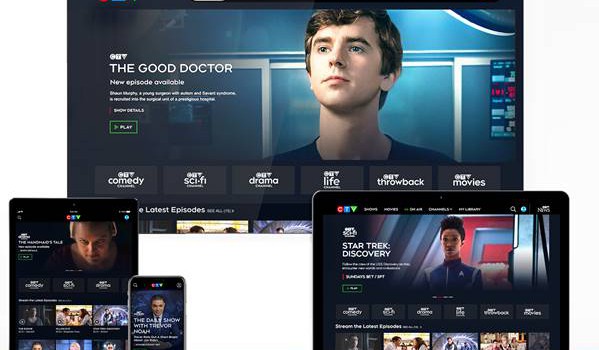 Bell Media has brought a number of CTV-branded channels and associated programs under a single digital banner with the newly launched, all-in-one digital video platform.
The new service is 100% ad-supported – the On-Air offering delivers linear ads in tandem, while pre- and mid-roll connected TV ads are also available for purchase (directly or programmatically). Stuart Johnston, president of media sales and marketing at Bell Media, describes the platform as "sponsor-friendly" and one that allows for "platform-agnostic programmatic trading."
Available on desktop, mobile and connected TV, the new CTV app includes the free-to-watch content that appeared on CTV's previous digital platform iterations. This includes "throwback" shows like NBC's Community and the classic Who's The Boss?, as well as popular movies like Stand By Me and the Sam Raimi Spider Man trilogy. Those titles remain free-to-watch, as they had been before, however now the platform also includes on-demand titles currently running on CTV, like Love Island and The Masked Singer, as well as the CTV-branded specialty channels, like CTV Sci-Fi's Star Trek: Lower Decks and CTV Comedy's Full Frontal With Samantha Bee.
Although the shows are integrated on the platform with the free-to-watch shows, they require logins from authenticated cable subscribers. Those subscribers also have access to an "On Air" tab which allows them to access CTV's linear stream – a similar function to that offered through CTV's TV Everywhere service, CTV Go.
While this is a distinct offering from Bell Media's Crave, which is also home to additional add-on packages including Showtime and HBO series, one thing this new program has in common with Crave is that it's powered by the same technology.
Bell Media has been working toward creating what it calls a CTV "Super Hub" since 2018, the same year it rebranded four of its key specialty channels – the former Space, Gusto, Comedy Network and Bravo – with new CTV monickers (CTV Sci-Fi, CTV Life, CTV Comedy and CTV Drama, respectively). In late 2018, it unveiled the next step in its "Super Hub" plan with the introduction of the CTV Throwback and CTV Movies, which were eventually brought into one platform and are now part of the brand-new CTV digital destination.
While CTV has never publicly issued subscriber numbers for its digital services, the new service can theoretically reach virtually all Canadian TV subscribers (for the current CTV content), as well as  its individual specialty subscribers. It can also reach cord-cutters with its free content.