ICYMI: Shareholder shakeup at MediaCentral
Plus, Signal Hill gets ready for more podcast insights, and CBC expands its political coverage.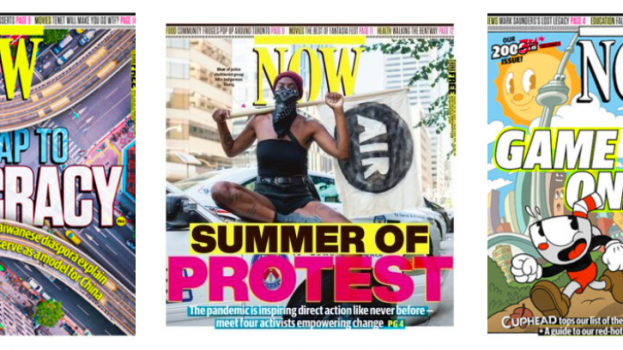 Shareholders concerned about 'underperformance' at MediaCentral
The last week has been an interesting one for MediaCentral, the company that purchased alternative titles Now and Georgia Straight last year. On Oct. 16, some concerned shareholders (including Rachelle and Michael Grossi) of the corporation issued a news release regarding a requisition of shareholder meeting, driven by a desire to change the board of directors and elect four new directors to the board. According to a release by the shareholders, this was due to what they view as the company's "prolonged underperformance and its leadership's resistance to meaningful change."
On Oct. 22, certain members of the group announced an aggregate of 14 million additional common shares in the capital, collectively representing 4.14% of the outstanding common shares of the company. The shares were acquired for investment purposes. Together, the acquirers and Rachelle and Michael Grossi own or exercise control over an aggregate of more than 60 million common shares, representing 17.77% of outstanding common shares.
Canadian Podcast Listener study goes back into market
The Canadian Podcast Listener 2020 survey, created by Signal Hill Insights with support from TPX and Ulster Media, is officially in market for more findings. In a sneak peak of the work so far shared with MiC, early results show the lean-in nature of podcasts versus other media activities. For example, 64% of people say they concentrate "a lot" on the podcasts they listen to, putting it among the top, most lean-in activities (and putting it ahead of activities like watching short movies and checking social media). The two most common reasons for consumer podcasts are to learn something new and to be entertained, whereas music listeners and TV or video viewers say they tune into their media to unwind or pass the time.
The full Canadian Podcast Listener 2020 report is scheduled for mid-November release.
CBC launches new weekly political show
Rosemary Barton Live will become a new weekly staple on CBC's TV channels and its streaming service, Gem. Beginning Nov. 1, the show will air Sundays at 10 a.m. on CBC News Network, with a shorter version simulcast at 11 a.m. on CBC TV and CBC Gem. Barton, CBC's chief political correspondence, will deliver a weekly dose of conversations and need-to-know political news and issues affecting Canadians. The live format will allow for breaking political news and conversations with newsmakers across the country. Barton will also continue to host political specials and The National's "At Issue" panel.
With files from Patti Summerfield