Vanessa Craft talks TikTok
Elle Canada's former editor joined the social video platform to bring more people to the table, expanding their audiences and her own.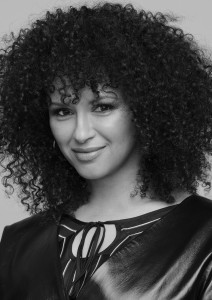 TikTok is still an object of fascination for us grown-ups. After launching in 2016, it came to prominence thanks to a legion of (generally) youthful users producing and sharing short videos of dances, opinions or whatever, and like many social platforms before it, TikTok started attracting media, cultural and advertiser scrutiny.
While it is also attracting scrutiny from politicians in the U.S., the company is actively trying to expand its user base and, in turn, its value to advertisers. TikTok won't divulge Canada-specific audience numbers, but it hired Vanessa Craft as director of content partnerships expressly to grow that audience. Craft's hiring might also signal that it's trying to attract a certain kind of brand and media partner to its community.
Craft had only been with TikTok Canada for five weeks when she recently spoke with MiC. She joined from Elle Canada, the print and online fashion publication where she was editor-in-chief (and which has since shuttered its Toronto office). Craft is certainly not the first "traditional media" executive to jump from the old school to the new, but her fashion media experience lends her credibility with that sought-after luxury audience.
Although, according to Craft, that exclusive audience isn't as exclusive as it once was.
On paper, what's your job description at TikTok? What's your day-to-day like?

Vanessa Craft: Big picture, my team focuses on building, growing and expanding creators' presence on TikTok, helping them tell their stories, discover new audiences and build their brand. But specifically, as director of content partnerships, I oversee content strategy, user acquisition and growth of the platform's community — everyone from public figures to creators to media publishers. Day-to-day, my job is a lot of Zoom calls and a lot of vitamins.
Elle certainly has a significant digital presence, but was born a print product. How much of your skillset carries over? Are you seeing similarities?
Everything I did at Elle was about sharing stories about innovative and trendsetting Canadian creatives, shining a spotlight on the talent in this country. Although this seems like a huge leap from an industry perspective, which it is, it isn't that different. It's just a more democratized approach to telling stories. TikTok offers a place where anyone can be their authentic selves. The level of storytelling opportunities here are infinite.
TikTok and its competitors are very democratic, but you're coming from fashion media, which typically delivers a very exclusive kind of audience. Is that shift a challenge?

Look at the runway show portion of the fashion industry. Big brands had to shift how they do their fashion shows, not just because of COVID but because of the demand of the consumer to see shows even if they weren't sitting front row. That's a huge shift in brands opening to a bigger world. [Fashion] had been very closed off and you had to know the right people to get access. Now, [brands] are all doing their shows digitally. Dior, Jacquemus, Fendi, they're all on TikTok. So you have that high brand level, and then you get a fashion community of individuals having fashion shows in their parking lot, showing what they have in their own closets. To me, it's a no brainer.
Is TikTok's community of creators notably different than those of other social platforms?

We're a short-form video platform. I don't even really view us as social media. We have so many uniquely Canadian stories to tell here, and TikTok offers a very different opportunity to do that than the more refined, highlight-reel-version of life. TikTok is the real-life-version of life. As buzzy a word as it is, authenticity is the key here.
The discovery aspect of what users find is unlike any other platform, where [discovery] depends on who you're following. We have a user called Notorious Cree. His name is James Jones, he's based in Edmonton. He uses TikTok to share Indigenous culture and history with new audiences. He's a hoop dancer. His level of sky rocketing success [he has 2.1 million followers] on our platform is unique. People just stumble across something like that that you haven't seen before, something you wouldn't necessarily go looking for.
What's the opportunity on this platform for other media companies?

There's a team we're building to work with media companies. I'm excited about it because, obviously, I come from that world, but I know that these huge media companies have incredible archives of content, incredible storytellers working for them. They have audiences that are already established, but we are a potential place of audience growth. In media, all we talk about is things shrinking.
We want to have conversations with media companies, get them on the platform, give them best practices and help them understand what they need to succeed. Then we'll let them fly. Media companies are obviously thinking about monetization [on TikTok]. It's a huge priority. That can be a conversation for another time. I think growing audiences is the number-one thing they should be doing. They need to expand who they talk to and how they talk to them. Publishers have brand recognition, and that's what they should be doubling down on, even when they move to a new platform.