Rogers Sports & Media enters OOH by acquiring Rouge Media Group
Rogers continues on a growth strategy by adding 2,600 signs in Canadian colleges and universities, resto-bars and salons.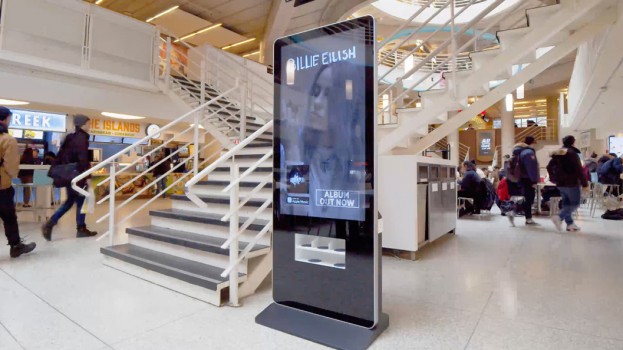 Rouge Media Group, the Canadian arm of Rouge Media, has been acquired by Rogers Sports & Media, allowing the media giant to establish an out-of-home arm.
Announced on Monday, the transaction sees Rogers Sports & Media obtaining Rouge's Canadian assets, composed of static and digital-based signage network within university and college campuses, resto-bars and salons. According to Alan Dark, SVP of revenue at Rogers Sports & Media, he estimates the company will add 2,600 signs across the country to its new OOH portfolio.
Dark notes Rouge Media Group will operate as a standalone entity within Rogers Sports & Media, acting as its DOOH brand. Rouge and Rogers' sales team will work together, with Rouge team members acting as DOOH subject matter experts. The acquisition will have no impact on Rouge Media Group's staff or services, according to Rouge, and it will continue to operate its DOOH signage network in the U.S.
According to Martin Poitras, CEO of Rouge Media, the transaction allows Rogue's offering to stay competitive in a tight Canadian media landscape, as the company will have the financial, personnel and network strength of Rogers behind it, as well as integration with the telco's omnichannel approach and presence. The transaction also frees Rouge up to pursue scaling its operations in the U.S., which is a more than a $300 billion advertising market.
For Rogers Sports & Media, it enters the OOH space looking to expand its business base by giving advertising partners more options to execute their campaigns and customers more ways to view what services the media company is making available to them. According to Dark, many brands the company works with are looking for an omnichannel campaign execution these days, and this acquisition helps fulfill that.
Dark notes this acquisition ladders up to Rogers Sports & Media president Jordan Banks' growth strategy, primarily consisting of exploring new platforms to expand to, content development and other digital spaces to pivot to.
The Canadian venues where Rouge's DOOH network spans, among other things, aligns with Rogers' various portfolios. For example, Rouge's DOOH network in resto-bars now allows Rogers to better reach sports' fans with brands like Sportsnet.
Although venues like resto-bars and salons are largely closed now due to the pandemic, Dark says, based on insights and research the company has gathered, that they expectation is that within the next 24 months, things will improve around COVID-19 and foot traffic at such venues will return to somewhat normal levels.