Ricola Canada makes a late pivot into its first Super Bowl spot
A chance to get 15 seconds of ad time during the game presented an opportunity to get a big audience.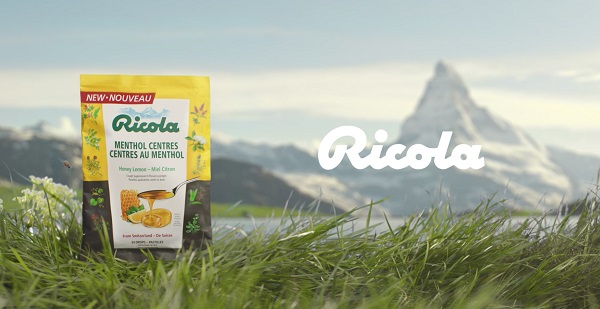 Ricola Canada is running its first-ever Super Bowl commercial, using an opportunity presented to it late in cold season to try and get big reach for a new product.
The 15-second spot, produced by New York-based Burns Group, is launching the brand's new Honey Lemon Menthol Centres lozenge. Alok Ummat, director of marketing for Ricola Canada, tells MiC that it made sense to "seize the Super Bowl opportunity" not just to get the new product in front of big audience, but to get that audience thinking about its brand in a new context.
The brand already had a strong media buy for cough and cold season, Ummat says, and a Super Bowl spot wouldn't normally have been in the cards. But the option was presented by Ricola's Canadian media agency, VMC Media, to add a 15 second Super Bowl buy, due to savings it had gotten on that campaign. That presented an opportunity for "unduplicated reach of target" that was too good to pass up.
"It was late in the game so obviously we couldn't alter our spot or create a new one," Ummat says. The 15-second spot Ricola is airing is the same one it has used in the past, but they are supporting the spot with organic and paid social through FUSE Create running during the game, "targeting a broad audience" and featuring new messaging that looks outside of cold and flu season.
"Our products not only help soothe your throat during cough and cold season, but are also tied to 'demand moments' like cheering during the big game or singing along at the halftime show, which coincidentally features Canada's The Weeknd."
According to the release, market research indicates 30% of people rely on Ricola lozenges for relief for non-cough and cold occasions.
"Wherever possible, we'll be part of the broadcaster's second screen," Ummat says, running the spot on TV, but also across the broadcaster's online and mobile channels. "We know from last year's Super Bowl that live stream video starts on Bell Media properties grew 42% and Super Bowl pageviews jumped 21%."
In terms of expectations, Ummat says "it's hard to track sales lift from a one-day event," but since 2013, Ricola's share has jumped from about 13% to about 20%, with household penetration going from 6.4% in 2016 to 11.4%.
"Both metrics tell us that our products, advertising, and marketing and sales strategies are resonating with Canadians. Advertising during the Super Bowl should further build on that marketing progress."