Swiss Chalet renews WW partnership with a big paid strategy
The family service restaurant focuses on community engagement by investing more in social spend.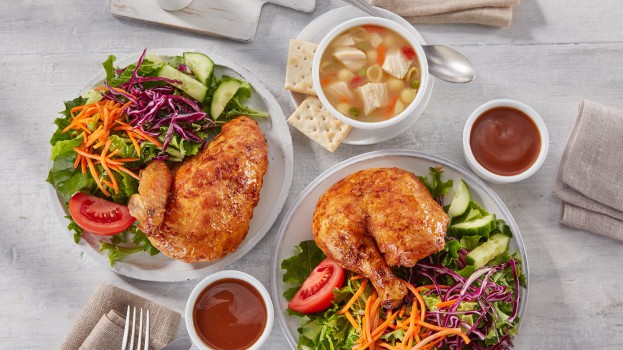 Swiss Chalet has teamed up with WW Canada for a long-term partnership to tap into the global weight loss company's health and wellness audience.
The partnership focuses on a "WW Favourites" menu, featuring meals served with a SmartPoints-friendly list of sides and beverages. The campaign kicked off on March 4 with a social media contest on Instagram, where people can enter by sharing an Instagram Story of them enjoying their WW Favourites meal for a chance to win a three month WW Membership, WW Shop Vouchers and a Swiss Chalet eGift card.
Grace Pan, digital marketing manager at Swiss Chalet, tells Media in Canada that the family service restaurant had first partnered with WW Canada two years ago. This time around, "it was important for us to make sure both brands' visual identities are reflected to maximize brand recall on these highly competitive social platforms. We want the return of our partnership to make a splash."
To do that, Pan says the brand moved away from its traditionally darker, warm tones, in favour of a cleaner, lighter-coloured aesthetic, "to visually signal simplicity, health, wellness and a distinction from our other campaigns. It also ensured that the food itself is at the forefront," while helping customers stay on track with their WW program.
The relaunch differs from the first partnership, Pan says, featuring "slightly different menu items after hearing feedback from our guests and WW Members. This time around, there is more emphasis on driving awareness and trial – getting the word out there with the support of both paid and organic social."
The initiative is supported with a digital-first national campaign, primarily across Facebook and Instagram.
The campaign will feature in-feed still images and video content on both platforms. "Optimizing with both still image and video has worked well for us in the past and allows us to compare the results of different engagement metrics and drive efficiency," Pan says, with conversions going to a WW landing page at swisschalet.com to answer any questions prior to entering the purchase funnel.
Swiss Chalet will also be launching paid Instagram stories to support the initiative, featuring WW menu items that users can tap and hold in order to pick their dinner. "The swipe-up link directs guests to our e-commerce page where WW has taken over our feature banner and is spotlighted in its own menu category," Pan explains, "so guests can order the dinner they picked within a few clicks."
In addition to targeting those who are interested in health and wellness, the campaign also targets audiences who have expressed interest in Swiss Chalet and WW, those who are already fans of the two brands on social, and anyone who has ordered off the WW menu in the past.
As far as how this campaign fits into the brand's larger strategy, Pan says "from extensive research, we know that statistically, WW's biggest user segments align with our key target segments, and social is where we find our younger guest base." In order to capitalize and engage more with that audience base, the brand decided to focus more on paid social, "where our guests are already going for health and wellness inspiration and ideas."
WW Canada is supporting this launch through member email communications and organic social media, Cameron Miller, director, commercial development, WW Canada, tells MiC. Specifically, Instagram, Facebook, and Connect, "our private social platform, similar to Instagram, but exclusive to the WW community," Miller says.