Meghan and Harry dominate the ratings: Numeris
Oprah's sit-down with the former royals was a hit for Global, while hockey and police dramas continue their strong performance.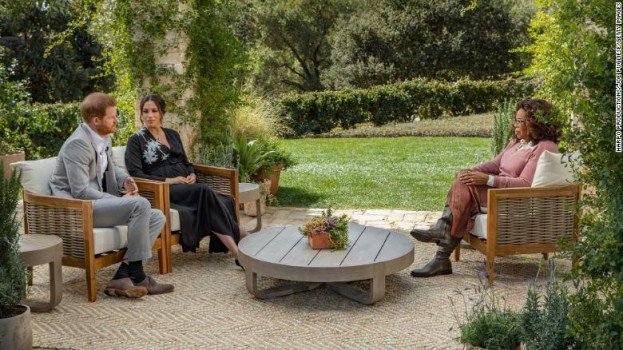 Global landed a big hit when it secured the Canadian rights to Oprah with Meghan and Harry from CBS.
The two-hour interview with the former royals dominated the national TV rankings and hit the top spot in most markets across the country, according to Numeris data for the week of Mar. 1 to Mar. 7.
The royal discussion logged 3.21 million viewers across the country, and only missed the number one ranking in Calgary (where it landed fourth) and French Quebec.
Les beaux malaises 2.0 maintained the top spot on Francophone TV for yet another week, with 1.73 million viewers.
Otherwise, notable programming performances included NHL hockey in Toronto/Hamilton and Edmonton alike for a tilt between the Leafs and  Oilers, with each team's performance in the standings this season translating into consistently strong ratings. Police dramas also continue to rank well nationally and in most markets.
National
Oprah with Meghan and Harry: A CBS Primetime Special on Global Sunday at 8 p.m.: 3.21 million viewers
9-1-1 on Global Monday at 8 p.m.: 2.03 million viewers
9-1-1: Lonestar on CTV Monday at 9 p.m.: 1.96 million viewers
NCIS on Global Tuesday at 8 p.m.: 1.73 million viewers
Blue Bloods on CTV Friday at 10 p.m.: 1.66 million viewers
Quebec (Francophone)
Les beaux malaises 2.0 on TVA Wednesday at 9 p.m.: 1.73 million viewers
Star académie 2021 – Le variété on TVA Sunday at 7 p.m.: 1.28 million viewers
Toute la vie on SRC Tuesday at 8 p.m.: 1.27 million viewers
Alertes on TVA Monday at 9 p.m.: 1.24 million viewers
En direct de l'univers on SRC Saturday at 7 p.m.: 1.19 million viewers
Toronto/Hamilton
Oprah with Meghan and Harry: A CBS Primetime Special on Global Sunday at 8 p.m.: 953,000 viewers
NHL Hockey – Leafs vs. Oilers on Sportsnet Wednesday at 8 p.m.: 468,000 viewers
9-1-1 on Global Monday at 8 p.m.: 435,000 viewers
9-1-1: Lonestar on CTV Monday at 9 p.m.: 412,000 viewers
Blue Bloods on CTV Friday at 10 p.m.: 372,000 viewers
Montreal
Oprah with Meghan and Harry: A CBS Primetime Special on Global Sunday at 8 p.m.: 110,000 viewers
9-1-1: Lonestar on CTV Monday at 9 p.m.: 80,000 viewers
The Conners on CTV Wednesday at 9 p.m.: 70,000 viewers
9-1-1 on Global Monday at 8 p.m.: 67,000 viewers
Young Sheldon on CTV Thursday at 8 p.m.: 53,000 viewers
Edmonton
Oprah with Meghan and Harry: A CBS Primetime Special on Global Sunday at 9 p.m.: 119,000 viewers
NHL Hockey – Oilers at Leafs on Sportsnet Wednesday at 6 p.m.: 119,000 viewers
Hockey Night in Canada – Oilers at Flames on Sportsnet Saturday at 8 p.m.: 105,000 viewers
New Amsterdam on Global Tuesday at 8 p.m.: 92,000 viewers
Clarice on Global Thursday at 8 p.m.: 86,000 viewers
Calgary
9-1-1 on Global Monday at 9 p.m.: 106,000 viewers
NCIS on Global Tuesday at 9 p.m.: 98,000 viewers
New Amsterdam on Global Tuesday at 8 p.m.: 93,000 viewers
Oprah with Meghan and Harry: A CBS Primetime Special on Global Sunday at 9 p.m.: 90,000 viewers
Blue Bloods on CTV Friday at 8 p.m.: 89,000 viewers
Vancouver/Victoria
Oprah with Meghan and Harry: A CBS Primetime Special on Global Sunday at 8 p.m.: 439,000 viewers
60 Minutes on Global Sunday at 7 p.m.: 192,000 viewers
NCIS on Global Tuesday at 8 p.m.: 183,000 viewers
9-1-1 on Global Monday at 8 p.m.: 171,000 viewers
Magnum P.I. on CTV Friday at 9 p.m.: 153,000 viewers