COBS bakes more digital into doughnation day
The bakery brand harnesses an always-on digital play and mobile pre-roll to ensure local penetration.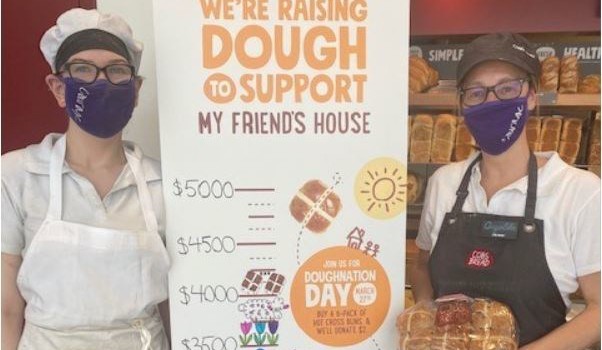 COBS Bread is focusing more on paid digital, including a new mobile pre-roll opportunity, to build on the popularity of its "Doughnation Week" campaign.
The second edition of the week-long charitable campaign begins today and is designed to encourage customers to "doughnate" and help COBS raise $250,000 for charities across Canada.
Funds are raised online until "Doughnation Day" on Mar. 27, where $2 from the sale of every COBS hot cross bun 6-pack will be donated to local charities across Canada.
"As a local community bakery, connecting with local charities is a cornerstone of our business," says Brad Bissonnette, VP of Marketing for COBS Bread in the release. "And we also recognize that in the midst of this pandemic, people want to have options for how they can get their food and bread, and give back to their communities. We're looking forward to the outcome of these efforts and the impact we can make across the country."
COBS' top season is Christmas, Tanya Hook, senior brand manager at COBS Bread, tells MiC. But hot cross bun season (Easter) ranks as high as Thanksgiving, and as a result, the Doughnation week/hot cross bun campaign is 20% of the brand's digital budget for 2021.
The campaign consists of a live, on-location TV spot this week, along with PSA videos around community giving and "doughnation" options. That's supported by a small TV buy, but the bakery is going digital-first for the campaign, including pushing the community-giving PSAs through digital pre-roll across Corus' mobile channel (delivering to audiences who stream Corus content via mobile devices), as well as strong SEM and social media advertising support.
Digital is a key channel for COBS as a franchise (which has just over 130 bakeries across Canada), Hook says. "Our demo is families and we use both keywords and re-marketing for our SEM. The pre-roll is a new tactic we're using for our Doughnation Day communications, and the use of geotargeting through that medium will ensure our message is relevant, reaching those that have a COBS in their community."
The digital pre-roll was facilitated through North Beach Media and designed to complement the TV investment (primarily in Vancouver) by pushing the PSA in targeted markets like Toronto, Edmonton and Calgary. SEM and paid social was managed by Major Tom.