Vevo partners with VIDAA for CTV/OTT expansion
With a 32% growth in connected TV viewership, the platform is looking to grow its distribution through the new partnership.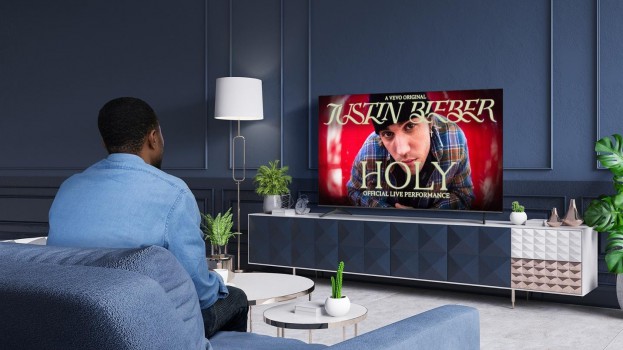 In an ongoing effort to expand its connected TV and OTT footprint, Vevo, a global music video network, has partnered with VIDAA, a Linux-based open smart TV operating system, to launch the Vevo app on VIDAA-powered smart TVs.
The new app will provide Hisense and Toshiba smart TV users with on-demand access to music videos, including official releases and live performances, as well as originally produced content by Vevo. To date, VIDAA reportedly powers 48 million devices worldwide.
Kinsey Tamberrino, Vevo's VP, east coast and midwest sales, tells Media in Canada that Vevo has been actively expanding its distribution into the TV space. "We have seen 32% growth in connected TV viewership, a strong trend that music videos are being enjoyed in the living room again."
According to Tamberrino, the network is targeted toward younger viewers, including Gen Z. Vevo has 16.1 million Canadian viewers each month, translating into 3.4 million daily Canadian viewers, and 120 million monthly views on CTV. The app reaches 48% of online Canadian adults 18 to 34, and 44% of adults 25 to 54.
Tamberrino says advertisers can "customize and target by demo, geographic region, language, genre, mood and more to align their messaging with the audiences they want to reach." As curators of its content, Tamberrino adds that Vevo also creates programming around events like Canada Day, as well as Weekly Hits, "which allows exclusive access into packages featuring top trending videos, like Peaches by Justin Bieber, currently in rotation."
Vevo's ad-supported network library "consists of more than 500,000 premium and high-quality music videos" and features artists such as Justin Bieber, Drake and The Weeknd. Vevo is currently available on Apple TV, Amazon Fire and Echo, Roku, Foxxum, NetRange, Vewd and now Hisense and Toshiba smart TVs, with Tamberrino noting that advertising opportunities are accessible via direct and programmatic channels.