StackAdapt adds forecasting to its DSP
The new tool provides pre-campaign insights to make sure media buyers are planning effectively.
In an effort to remove the guesswork from programmatic campaigns, StackAdapt has launched a new enhancement to its DSP, helping media buyers plan and forecast more effectively.
The new tool, aptly called Forecasting (pictured below), became available to all StackAdapt users today, and allows advertisers to plan pre-campaign around audience size, unique users and daily impressions based on geographic targeting, audience demographic and inventory.
The investment in planning is focused on maximizing campaign success, Vitaly Pecherskiy, co-founder and COO of StackAdapt, tells MiC. "Our new Forecasting capability is differentiated by its flexibility," he explains, noting that it can layer targeting data relevant to campaigns at speed, providing "granular insights about where your audience is dropping off prior to campaign launch."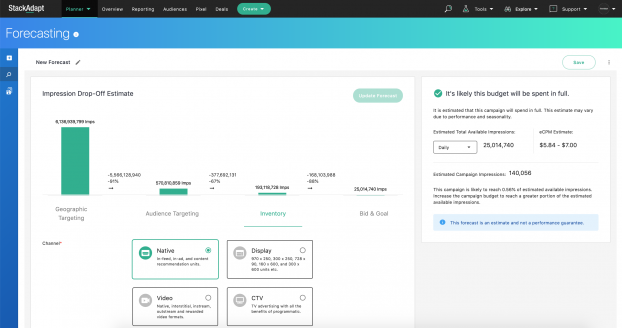 Historically, effective evaluation of programmatic DSP campaign performance occurred after the campaign goes live, analyzing the initial results and pivoting based on the subsequent results. When consumer behaviour has been erratic at best during pandemic conditions, guesswork is made more difficult when it comes to planning. In response, the Forecasting tool allows media buyers to consider insights before launch, providing eCPMs, estimated unique users and projected impressions the campaign can yield based on the parameters in question, helping to determine budget size or targeting considerations.
The Forecasting tool was made available in a limited release last week and met with quick adoption, says Pecherskiy, noting that after three days, 37% of clients had used it at least once.