Estee Lauder doubles down on Facebook for Shades of Canada
Focusing on diversity and inclusion, the second iteration of the campaign relied on social to make sure Canadians know there's a product for them.
Building off of learnings from its first #ShadesofCanada campaign, Estée Lauder Canada increased its investment in Facebook by 50% and leveraged some of the platform's unique tools in order to deliver results for the next edition of the campaign.
Put together by creative agency A Plus Creative with media managed by Elevate, the campaign promotes Estée Lauder's locally-produced Double Wear products, ensuring consumers know that there is a shade for every Canadian.
Version one of the #ShadesofCanada campaign was launched in 2019. A challenge was presented to the Canadian marketing team from the global office, says Susy Brown, Estée Lauder Canada's marketing director.
"They wanted us to do something that was regionally relevant, and take an iconic product like Double Wear – created more than 20 years ago – and tell a story that was Canadian-based."
The first iteration met with considerable success, but feedback on social indicated audiences were skeptical, claiming they couldn't find their shade, as well as asking for even more diversity in the models and "real people."
In response, this year's campaign doubled down on its Facebook investment to reach that skeptical audience, using its custom carousel ads to clearly indicate the shade each spokesperson used. It also used the platform's split screen function in stories, using a "find my shade" call to action, as opposed to the initial "shop now," to address user concern that they may not be able to find something that matches their complexion amidst the 50-plus shades Double Wear carries.

Engaged audiences are brought to the brand's new virtual shade finder, an online tool Estée Lauder invested in based on the wave of shade-specific struggles born out of the first campaign.
A diversity-first campaign, Estée Lauder listened to audience feedback around its spokespeople as well, opting for unscripted activations with a diverse range of Canadian athletes who could put the Double Wear brand through its paces and illustrate that with 56 different shades, there is a Double Wear #MadeInYourShadeInCanada.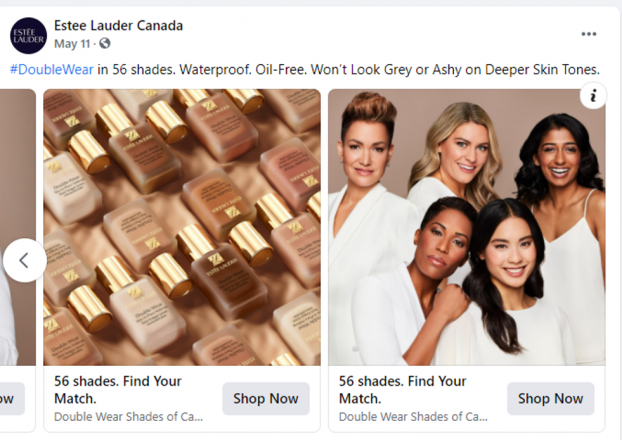 The latest campaign – which started May 19 and will run until June 30 – features Natalie Spooner, champion ice hockey player; track and field and bobsleigh athlete Phylicia George; Paralympic snowboarder Michelle Salt; seven-time Canadian Senior National Champion climber Alannah Yip; Five-time Canadian women's kata champion Rita Ngo; Canada's Sports Hall of Fame water polo player and Mohawk, Waneek Horn-Miller; ICC world qualifier and international women's cricketer Achini Perera; and Eric Radford, a two-time Canadian world champion ice-skater.
Overall, the campaign was activated primarily over Facebook, Instagram and YouTube, Brown says, calling out the Facebook carousel, where "we are able to call out custom benefits that reflects each athlete's skin tone. In the case of Phylicia George, who has a darker skin tone, we know that one of the concerns with makeup is that it can look gray or ashy," she explains. "So we call that out in all of Phylicia's assets. In Eric [Radford's] case, we focused more on the functionality of the product and the natural matte finish."
YouTube was used to push broad campaign awareness and "showcase the complete creative," Brown says, with social positioned to call out benefits for each spokesperson by featuring the shorter :15-second athlete-specific spots.