How theScore is welcoming single-sports betting to Canada
With the passing of Bill C-218, organizations like theScore can integrate media and wagering offerings across the country.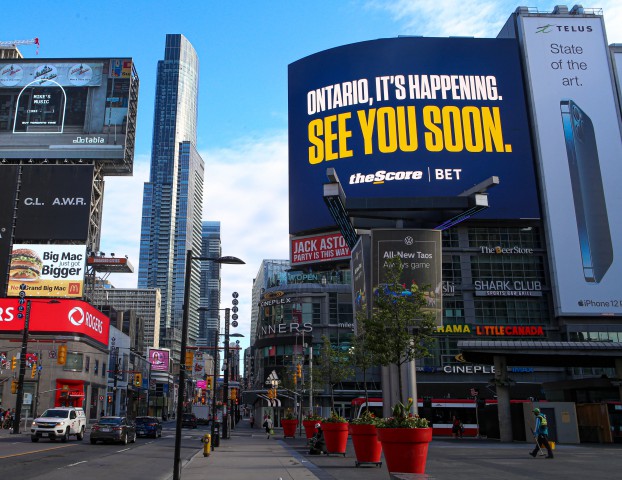 On Tuesday, the Senate passed Private Member's Bill C-218, marking the legalization of single-sport betting in Canada, and paving the way for the online wagering organizations like theScore to expand its integrated media and betting business into the country.
The following day, theScore was ready to respond to the news with out-of-home activations along Toronto's Gardiner Expressway, and in the city's downtown core at Yonge and Dundas, saying "see you soon," to make sure theScore brand is first to be top of mind with sports media audiences and online gamblers.
"This is our backyard," says Aubrey Levy, theScore's SVP of content and marketing, "and as Ontario opens up [to legalized single-sport betting] hopefully later on this year, we intend to be here in a prominent fashion."
While the organization's mobile sports media app reaches approximately 3.75 million users in Canada each year, and 1.43 million in Ontario, its mobile sportsbook, theScore Bet, is currently only available in U.S. states where it is permitted (New Jersey, Colorado, Indiana and Iowa). But when Bill C-218 is finalized, the organization will focus on the Ontario market out of the gate.
As far as the DOOH campaign goes, Levy says this is just the beginning, noting that they worked directly with Outfront and Branded Cities to place the media. The brand does not typically opt for "above the line" activations like this, he says, noting a preference for performance marketing tactics in the U.S., but because of the previously existing high levels of brand loyalty and, ultimately, the opportunity in Ontario, "you're going to see us unlock a number of marketing opportunities that we don't necessarily do in the U.S."
As Bill C-218 was debated, Levy says they started conversations with media owners Outfront and Branded Cities directly, and early on to ensure they'd be ready to go once legislation was passed, but DOOH was key out of the gate due to its speed and high impact, evidenced by the activations popping up the morning after the announcement was made.
"This is the kickoff of a larger rollout," Levy confirms. "It won't just be one or two billboard placements. We are incredibly fortunate due to our digital foothold here [in Canada and Ontario]," he says, noting that they will be communicating and amplifying across theScore's owned channels as well, but due to the opportunity in market, he acknowledges theScore will be activating a "comprehensive, multi-platform" media campaign as things continue to develop in the wake of the bill passing.
According to Levy, 50% of theScore's bettors are "ecosystem users," meaning that they are hoping current mobile app users will turn into theScore Bet users, which is a differentiated, integrated experience they can't get anywhere else. The platform has 1.5 times the users of TSN in Canada, and 10 times the users of ESPN (source: ComScore, monthly active users for multi-sport news and data apps in Canada, February 2021).