Meanwhile, in Quebec: UberEats, Coppertone and Holos
How the brands are activating in the province with targeted buys that artfully combine TV and experiential marketing with social and digital.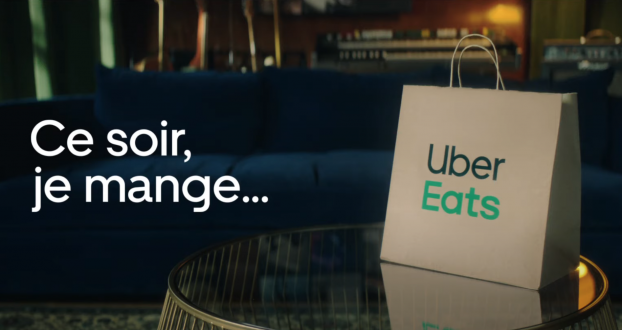 "Meanwhile, in Quebec" is a series that explores how brands are activating in la belle province, with Media in Canada/CARD taking a deeper dive into media plans and the insights behind them.
It's not uncommon to see/hear billboards and television ads in Quebec with French language creative. For many national brands that may be enough to hit the threshold of what it needs to do to connect with the local market. However, when it comes to online media, there is a real lack of French-language branded content, indicating that advertisers may be missing the opportunity to reach a growing digital consumer in Quebec.
In some North America markets, there is a lot of competition online, whereas in Quebec, there isn't an overload of content and brands specifically targeting francophones, says Sub Nijjar, president of Mosaic North America. Which is why, over the last few months, Mosaic has been combining social and digital with TV to help its client UberEats reach Quebec consumers.
The campaign's hero spot, "The Reunion," caused a stir when it brought former Montreal Canadiens goalie Patrick Roy and coach Mario Tremblay together during the Stanley Cup playoffs for an epic table hockey game – ending their 26-year-long feud. The TV commercial was extended to social and digital with a portion of the budget going toward an online media buy, taking advantage of the lack of French content that's not just in-language but also culturally relevant.
In July, new advertising was added to the campaign (which runs through August) that pairs two stars of the Quebec music industry – singer Ginette Reno and rapper Loud – playing with the same "Ce soir, je mange…" tagline and theme as "The Reunion" TV spot.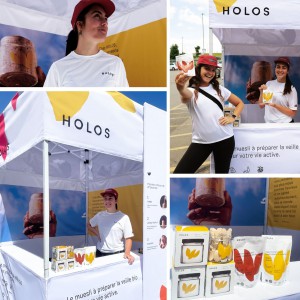 This summer, brands have also been pairing digital and social advertising with a return to experiential marketing in Quebec.
To kickstart the introduction of vegan breakfast brand Holos into retail stores, Vibrant Marketing used a mix of social media and pop-ups. Since its inception, the Quebec-based company has been selling its muesli product online only. To promote its retail debut, through July and August brand ambassadors at 50 branded kiosks outside food stores in Montreal and Quebec City are doling out sealed samples and product info.
Social media is being used to drive consumers to the Holos pop-ups, and the roadshow will also travel through to Toronto.
Social media and experiential was also the foundation of a summer campaign for Coppertone, "Le Gym au Soleil Coppertone," which offered gym-goers who spent a long winter indoors with an outdoor workout experience. In partnership with Énergie-Cardio, the pop-up fitness facility provided guests with an active workout experience under the sun and was hosted by former Montreal Alouettes' star Etienne Boulay.
Vibrant Marketing handled the Le Gym au Soleil Coopertone activation, which ran across Quebec in three locations throughout the month of June. Digital tactics (handled by while 1Milk2Sugars) were used to amplify the campaign, with local influencers, PR, organic social, paid advertising and contesting.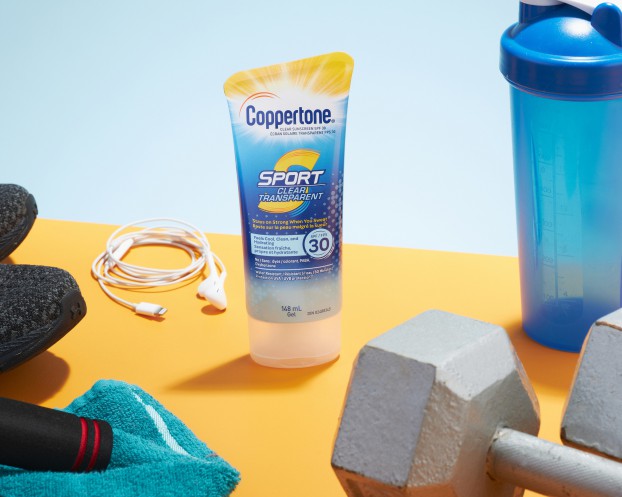 "We know the [Quebec] community likes to stay active, and how much gyms and local businesses struggled this year. The goal was to partner with local gyms to create interactive outdoor gym experiences that customers could enjoy safely in person or virtually as well," says Sonia Palazzo, senior brand manager for Coppertone.
"Reaching the French-Canadian audience is about more than mere translation, it's about demonstrating a fluency in the culture of the province and understanding what they value most," adds Palazzo. "That means engaging a local team, identifying the right brand ambassadors, selecting locations based on current neighbourhood needs and making sure we are creating conversations with local voice amplifiers in the Quebec media landscape."