TheScore aquired by Penn National Gaming
Canada's top sports app is combining forces with the US-based casino and racetrack company as it expands its sports-betting business.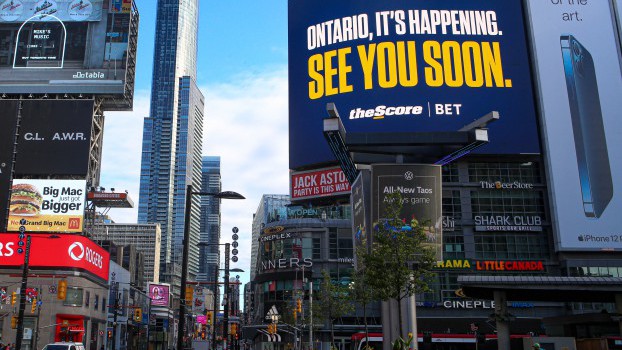 One of Canada's most popular content and sports-betting platforms is joining a new family Stateside.
This morning Pennsylvania-based casino and racetrack owner National Penn Gaming announced that it is purchasing theScore for approximately US$2 billion in cash and stock.
The transaction is expected to close in the first quarter of 2022, when Penn National and the Score shareholders will hold 93% and 7% of the company's shares, respectively.
Penn National – which also has a 36% stake in popular digital media company Barstool Sports – currently operates 44 gaming facilities across America and Canada, many operating under the Hollywood Casino brand.
Jay Snowden, president and CEO of Penn National said in a statement that the deal will allow his company to set on a path to gain full control of its own tech stack.
"TheScore has developed a state-of-the-art player account management system and is finalizing the development of an in-house managed risk and trading service platform," he explained. "This should lead to significant savings in third party platform costs and allow us to broaden our product offerings – providing the missing piece for operating at what we expect to be industry leading margins."
Integrating theScore's team with Penn's will also provide a "deep pool of product and engineering talent and data-driven user analytics which will help drive our customer acquisition, engagement, retention strategies and cash flows," he added.
For theScore – which the company stated is the #1 sports app in Canada and third-most popular in North America – the acquisition provides it with the immediate resources to invest in building out its Canadian operations, while also growing its footprint and expanding its workforce, said John Levy, chairman and CEO of theScore.
"This deal brings together two companies that share a vision for how media and gaming intersect," said Levy.
The move comes on the heels of Bill C-218 being passed by the Senate in June, effectively legalizing single-sport betting in Canada and paving the way for theScore to expand is business. Benjie Levy, president and COO of theScore, said that the new ownership and access to resources further primes the company for success in commercial sports betting.
"Over time, we've built our loyal user base and relationship with fans by authentically delivering deeply personalized products," he added. "That is an approach that seamlessly fits with Penn's current strategy and digital offerings and will provide for material long-term benefits as we collaborate to even more deeply integrate across our platforms."