Alouettes sign Groupe Park Avenue as a sponsor
The dealership network's first professional sports partnership will kick off with a season ticket campaign.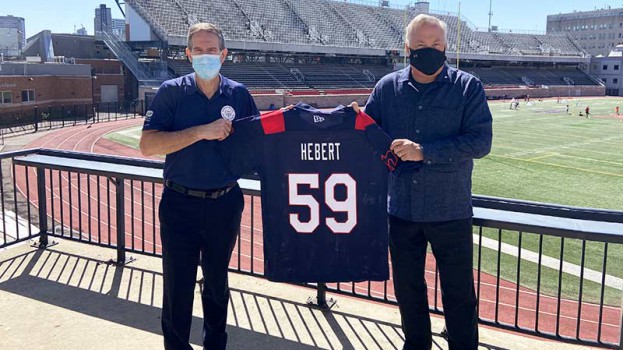 Montreal Alouettes president Mario Cecchini (left) with Normand Hébert, president and CEO of Groupe Park Avenue.
The CFL season is well underway, but the Montreal Alouettes are still bringing on new sponsors, signing Groupe Park Avenue.
Groupe Park Avenue is a network of 21 car dealerships located throughout Quebec. Its dealerships cover 15 different brands at all price points, but skew towards higher-end models like BMW, Audi and Mercedes.
Full details of the two-year sponsorship are still to be unveiled, but the partnership will kick off with Groupe Park Avenue being the presenting sponsor of the Alouettes' season ticket campaign this fall. The "official sponsor" graphic has also been placed across Groupe Park Avenue's digital platform.
The partnership is Groupe Park Avenue's first professional sports sponsorship. However, Normand Hébert, president and CEO at Groupe Park Avenue, points out that its roots with the team still go way back, as the company's first dealership was opened just down the street from Percival-Molson Memorial Stadium on Park Avenue in 1959.