Readership for news content is holding steady
Vividata's fall report also shows that broadcast's portion of TV audiences continues to slip.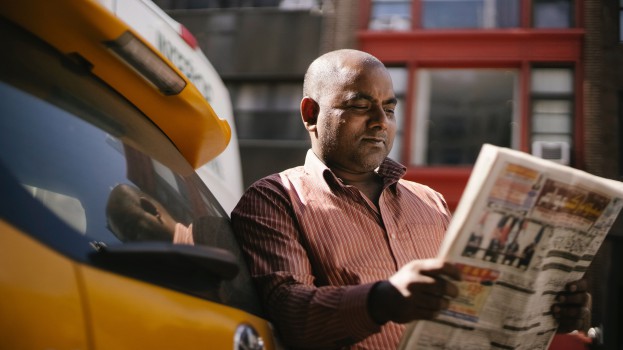 Whether it be print or online, most Canadians continue to see news brands as trusted sources of information that they read on a regular basis.
That's according to Vividata's Fall 2021 study, which polled nearly 37,000 Canadians on their media habits.
The report shows Canadians still read magazines and newspapers, with nearly eight out of 10 adults reading a magazine or newspaper or accessing one of their digital platforms in an average week. Four out of five Canadian adults have the same or more trust in newspapers in the face of growing misinformation, while nearly two out of three have less trust in social media as a news source.
After healthcare professionals, news brands remain the most trusted source for information on COVID and continue to achieve a higher rate of trust than government, television, radio and other media.
Seven out of 10 Canadians catch up on the news at least once a day, with those over 50 most likely to check the news and between 18 to 24 the least likely.
Just under 21 million adults (67%) read or looked through newspaper content in the past week, either print or digital, with 58% accessing digital content via a mobile device. In the past five years, those who access newspaper content on a smartphone has almost doubled, from 19% in fall 2016 to 36% in fall 2021. Newspaper readers are more active on digital during the weekdays and tend to turn to print on the weekends.
While 48% of magazine readers are reading exclusively via print, 16% read print in combination with more than one digital device. Over the past five years, the mobile audience for digital magazine content has risen as well, with 21% of adults accessing digital magazine content on a mobile device in fall 2016, increasing to 31% in fall 2021.
In addition, 21 million adults (69%) read or accessed magazine brand content in an average month, with food, travel, health/fitness, nature and entertainment/celebrity magazines remaining the most popular.
After seeing a newspaper ad, just over one in five newspaper readers searched online for a product, brand or service advertised, while just over one in 10 made a purchase. After seeing a magazine ad, just over one in five magazine readers searched online for a product, brand, and/or service advertised, while nearly one in eight made a purchase.
Television viewing continues to be strong, with streaming making up a substantial portion of it. In an average week, 93% of Canadian adults watch TV or video on any screen or device, spending approximately 20 hours per week on any screen, with 11 hours spent on streaming. The proportion of streaming hours to total TV or video viewing hours in a week varies by age. Among adults 18 to 34, streaming makes up 70% of their average 17 hours of TV/video viewing in a week, while for adults over 50, streaming makes up 43% of their average 23 hours of TV/video viewing in a week.
Watching broadcast TV is down from 66% in 2020 to 62% of adults this year, with 60% watching through a subscription service (up from 53% in fall 2020), and 33% catch-up on demand (down from 36% in fall 2020).