9-1-1: Lonestar holds the top spot again: Numeris
The series and three other CTV dramas dominated the primetime ratings across Canada.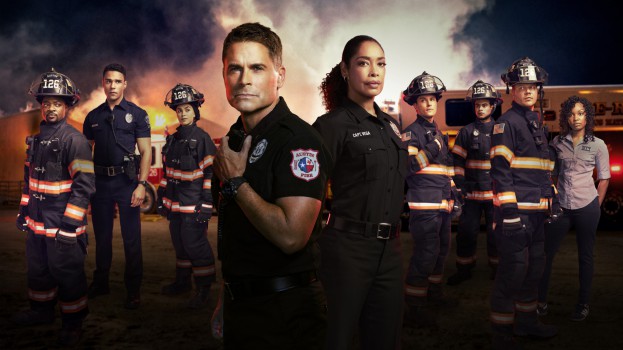 9-1-1: Lonestar was once again the top-performing show across Canada for the week of Feb. 21  to Feb. 27, according to Numeris data.
The drama follows the lives of emergency responders in Texas and is known for pushing the envelope with its unbelievable plotlines. The series held the top spot with 1.755 million viewers nationally for CTV and took the top spot in Toronto/Hamilton, as well as placing in the top five in every other anglophone market. Global's FBI was the second most-watched program with 1.627 million viewers, while Grey's Anatomy, now in its 18th season, returned after its mid-season hiatus and nabbed the third spot with 1.573 million viewers for CTV.  Other CTV dramas Blue Bloods and Station 19 rounded out the national top 5.
In Quebec,  Star académie 2022 – Le variété and  Le bonheur were once again the most-watched shows.
National
1. 9-1-1: Lonestar on CTV Monday at 8 p.m.:  1.755 million
2. FBI on Global Tuesday at 8 p.m.: 1.627 million
3. Grey's Anatomy on CTV Thursday at 9 p.m.:  1.573 million
4. Blue Bloods on CTV Friday at 10 p.m.: 1.558 million
5. Station 19 on CTV Thursday at 8 p.m.: 1.542  million
Quebec (Francophone)
1. Star académie 2022 – Le variété on TVA Sunday at 7p.m.: 1.513 million
2. Le bonheur on TVA Wednesday at 9:30 p.m.:  1.378 million
3. La Vraie Nature on TVA Sunday at 9:05 p.m.:  1.204 million
4. Alertes on TVA Monday at 9 p.m.: 1.174 million
5. Les braclets rouge on TVA Tuesday at 8 p.m.: 1.163 million
Toronto/Hamilton
1. 9-1-1: Lonestar on CTV Monday at 8 p.m.: 384,000
2. FBI on Global Tuesday at 8 p.m.: 368,00
3. Blue Bloods on CTV Friday at 10 p.m.: 365,000
4. Grey's Anatomy on CTV Thursday at 9 p.m.:  351,000
5. Station 19 on CTV Thursday at 8 p.m.: 330,000
Montreal
1.  Station 19 on CTV Thursday at 8 p.m.: 73,000
2. Grey's Anatomy on CTV Thursday at 9 p.m.:  69,000
3. NHL Hockey on Sportsnet Wednesday at 7:42 p.m.: 67,000
4. 9-1-1: Lonestar on CTV Monday at 8 p.m.: 64,000
5. FBI: International on Global Tuesday at 9:00 p.m.: 53,000
Calgary
1.  FBI: International on Global Tuesday at 7:00 p.m.: 91,000
2. 9-1-1: Lone Star on CTV Monday at 9 p.m.: 91,000
3. Grey's Anatomy on CTV Thursday at 10 p.m.:  85,000
4. The Amazing Race on CTV Wednesday at 7 p.m.:872,000
5. The Rookie on CTV Sunday at 7 p.m.: 79,000
Edmonton
1. NHL Hockey on Sportsnet Wednesday at 7:42 p.m.: 90,000
2. FBI on Global Tuesday at 9 p.m.: 82,000
3. New Amsterdam on Global Tuesday at 8 p.m.: 81,000
4. Blue Bloods on CTV Friday at 8 p.m.: 79,000
5. 9-1-1: Lone Star on CTV Monday at 9 p.m.: 72,000
Vancouver/Victoria
1. FBI: Most Wanted on Global Tuesday at 7 p.m.:  166,000
2. Saturday Night Live on Global Saturday at 8:29 p.m.: 140,000
3. FBI on Global Tuesday at 8 p.m.: 148,000
4. Magnum P.I. on CTV Friday at 9 p.m.: 143,000
5. Ghosts on Global Tuesday at 9 p.m.: 136,000